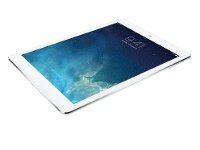 The iPad Air: Even at $479, no sale
So the iPad Air just went on sale, and already Walmart has
discounted the entry-level model to $479
. Mere hours later,
Staples followed suit
. My guess is Best Buy will do likewise before the weekend is out.
What's this? A discount on the never-discounted iPad? And on the very day of its release? That's definitely strange, and perhaps a little telling.
Granted, this is a savings of $20 we're talking about. Even at $479, the 16GB iPad Air is still the single most expensive tablet in its class, and not by a small margin. The Google Nexus 10 sells for $399, the Kindle Fire HDX 8.9 for $379, and the new Lenovo Yoga Tablet 10 for $299.
Ah, but this is an iPad we're talking about, and the Air is a premium product that's worth every penny of its premium price tag. Right?
Not according to this cheapskate. The new iPad is slick, to be sure, with a thinner, lighter design than before and, um, uh, wait, I have to look it up. Oh, right, it has a faster processor. Because, you know, the last iPad was so incredibly slow.
Except, no, it wasn't. I suspect maybe 2-3% of users would benefit from the kind of speed increase afforded by Apple's ballyhooed A7 processor--mostly those who play graphics-intensive games and don't like waiting extra seconds for them to load.
But other than the physical design changes and the new chip, the iPad Air is virtually identical to its predecessor. Apple didn't even add the Touch ID fingerprint sensor that caused such a stir in the iPhone 5S. Oh, and no price drop, either, even with so many less-expensive competitors.
The real question is why retailers are suddenly able to shave a few bucks off a product that historically has barely budged on price. I wonder if Apple itself will cut iPad prices across the board as the holidays draw near. Or perhaps they're now selling at a higher markup, which gives retailers some wiggle room on price.
It doesn't matter. $479 is still way too expensive for a 10-inch tablet with only 16GB of unexpandable storage. Allow me to save you some money and recommend one of the aforementioned alternatives. Because Air shouldn't be so expensive.
Veteran technology writer Rick Broida is the author of numerous books, blogs, and features. He lends his money-saving expertise to CNET and Savings.com, and also writes for PC World and
Wired.
(Source:
Savings.com
)