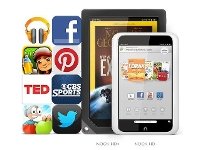 The one tablet deal you don't want to miss
It seems like every other day there's another incredible tablet deal, but trust me when I say this is the most incredible tablet deal I've seen in 2013--maybe ever.
Wow.
These are new units, not the refurbished ones you'd expect at such discounted prices. What's more, they're among the top-rated tablets in their class, with ultra-high-resolution screens and a few features you won't find in competing models from Amazon and even Google.
In case you're not familiar with them, the Nooks run a specialized version of the Android operating system, one that's custom-tailored to Barnes & Noble's media store. That was always something of a sore spot for me, as that store had a somewhat limited selection of movies, music, and especially apps. (Plenty of books, though, as you might expect!)
But thanks to a recent update, the Nook tablets now include full access to the Google Play store, meaning you can enjoy a much broader range of apps and other goodies.
That's a key advantage for anyone concerned that B&N might exit the tablet business, a rumor that's been floating around for awhile. Even if that happens, you'll still be able to use the Nook for anything and everything. No harm, no foul.
Ah, but which Nook to get? Obviously the 7-inch Nook HD is incredibly attractive at $129, but I think the real steal here is the 8.9-inch Nook HD+ for $149. There's simply no better tablet deal to be had anywhere, period. Amazon's similarly sized Kindle Fire HD 8.9 sells for $269 -- and doesn't have the Nook's expansion slot for adding more storage. (On the flipside, the Kindle has a front-facing camera, whereas the Nook does not.)
My suggestion, crazy though it may sound: Get both. Use the larger one around the house and the smaller one when you're out and about. These are fantastic tablets at fantastic prices, though I'm not sure how much longer B&N will be offering this deal--so don't wait too long to pull the trigger.
Veteran technology writer Rick Broida is the author of numerous books, blogs, and features. He lends his money-saving expertise to CNET and Savings.com, and also writes for PC World and Wired.


(Source:
Savings.com
)