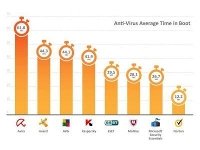 The single most surprising way to make your computer boot faster
I'm anti-anti-virus software.
I have been for a long time, for reasons I'm sure anyone can appreciate: anti-virus software costs money, and it can make your computer run slower.
Need proof? Look no further than the
Anti-Virus Average Time in Boot chart
recently posted to Soluto's Facebook page. It shows eight of the most popular anti-virus programs and how many seconds they add to the average PC's boot time.
The range: 12 seconds to a whopping 61.8 seconds. Yep, your anti-virus program alone could be costing you a full minute every time you start your PC.
Feel free to take this with a few grains of salt. Soluto reported nothing about the computer(s) or operating system(s) used for this testing, what the conditions were, or how the boot times were measured.
What's more, the company is in the business of selling IT-oriented computer management software that, among other things, promises to improve boot speed.
That said, these numbers don't surprise me in the slightest, which is why I've always favored a minimalist approach to PC security: a handful of free tools and a good helping of common sense.
The tools I use are those built right into Windows and my Web browser. The former (specifically, Windows 8) has baked-in anti-virus and anti-malware in the form of Windows Defender, plus a fairly robust firewall (which, paired my router's hardware-based firewall, keeps any and all attackers at bay).
My browser (Google Chrome, though Internet Explorer and Firefox are similarly equipped) detects unsafe sites and warns me before letting me click through to them. It protects me from phishing sites and those that attempt to install malware on my PC.
For an added measure of browser-based security (your Web browser is where the vast majority of security incursions are going to take place), I use
Web of Trust
, an add-on that shows which links are safe to click and which might be unsafe. (It also has optional parental controls that can block sites unsuitable for children.)
Finally, I think before I click. If I receive an e-mail warning me that my "account has been compromised" or my "package is waiting to be delivered," I don't click any link until I've asked myself some key questions. Do I even have an account with the company that's supposedly trying to warn me? And was I expecting a package?
Even if the answers to both were yes, I could open my browser and sign into my accounts directly, then check for any warnings or notifications. Clicking iffy links in e-mail is a sure-fire way to run into virus and/or identify-theft trouble.
Total cost to me for all this: zero. Total impact on my computer's performance: zero (or close to it; Web of Trust may make Web searches a tad slower).
Thus, if your computer is slow to boot, consider ditching your anti-virus software in favor of the free tools already built into Windows and your browser. I've been operating this way for as long as I can remember. Total number of security problems I've encountered: zero.
Veteran technology writer Rick Broida is the author of numerous books, blogs, and features. He lends his money-saving expertise to CNET and Savings.com, and also writes for PC World and
Wired.
(Source:
Savings.com
)