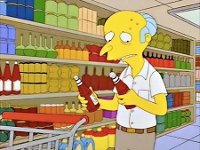 They Have Groceries There? Big Lots and Other Oddball Grocery Spots
Oddly enough this came up today at Savings.com. You would think something so simple would be common knowledge among us savvy shoppers here, but apparently not. Big Lots, 99¢ Stores, and many other places selling close-outs also sell groceries.
I ducked out during my lunch break, splurged on a cartload of goodies and spent all of $37!
Big Lots has tons of dry goods, canned goods, chips, snacks, soft drinks, cleaning supplies and more. Some even have frozen foods and beer and wine. While I personally wouldn't want to get canned baby oysters there, I'm sure they are fine. Most of what they have is cereals from 6 months ago with old movie tie-ins(Spiderman Cereal?), new flavors of old favorites that failed to catch on (maple brown sugar flavored Frosted Mini Wheats anyone?), pasta from brands you haven't heard of (Acme spaghetti), and downright funny stuff (Larry the Cable Guy brand Hamburger Macaroni Dinner Mix). All this stuff has a shelf life you can measure in years and a price usually 50% or more off what you would pay for similar stuff in the supermarket. Be careful though. Don't fall in love with some food stuff that you can't get anymore, it only leads to heartbreak.
99¢ Stores carry many of the same sorts of stuff but also adds to it fresh produce! I think they buy produce that is too ripe for other markets. Because of this you are not going to find green bananas or tomatoes you can hang onto for weeks. Best to shop here the way you would a farmers market. Buy only what you know you will be able to eat in the next day or two.
Some locations of both merchants carry beer and/or wine. Beer is beer, seldom does the seal go bad, so it's a safe bet. But for best results when buying wine, avoid bottles with a natural cork in them. Natural corks can dry out and let the wine turn to vinegar so look for a screw top or a synthetic cork. You can get wines here cheap as Charles Shaw, but without the "2 buck chuck" stigma. They're perfect for serving to guests or as a gift when you go to a party. But, sample some before inflicting it on friends, buy 2 or more bottles and open one. Since these wines are from vineyards, no one will ever know where you got it or how much you paid.
And that is a cheapskate tip to take to the bank.
Where else do you shop for groceries? Truck stops? Costplus World Market? Mail order?