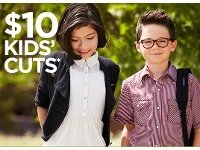 jcpenney.com
This week in deals: $10 haircuts for kids 12 and under at JCPenney
Many schools have either already begun or beginning in the next couple of weeks! I don't know about you, but every minute leading up to the first day of school is always just plain stressful. It seems like the list gets longer and the time gets shorter.
If you still need to get a few things or a lot, there are plenty of sales that will make up for the stress that you're probably feeling right about now. Here are this week's top 5 back-to-school offers:
Deal #1:
In preparation for the first day of school, a nice haircut may be on your back-to-school list of things to do. Right now, you can get a
$10 haircut at JCPenney for kids 12 and under
.
Expires August 31st, 2013.
Deal #2:
Jeans are a must in every wardrobe. If your child is in need of a new pair of jean, use this
coupon from Nordstrom
to save $10 off jeans for juniors.
Expires 9/02/2013.Deal #3:
If you're a parent, you're probably shopping for shoes year round, but especially right before school starts. Remember, to read your school's dress code because shoes like flip-flops and open toe sandals are probably not allowed. With this
coupon from Payless
, members can save 25% on all orders. Membership is free and very easy to join.
Expires 8/31/2013.Deal #4:
Is it time to trade in the old backpack for a new one? If so, click through for this
offer from Kmart
to save 25% on all backpacks and lunch kits.
Expires 8/15/2013.Deal #5:
If your child needs general art supplies for school, use this
coupon from Crayola
for 20% off the entire purchase.
Expires 8/31/2013.
If you're in need of school supplies, I was able to get everything from pencil cases to erasers from one cent to 50 cents at Staples. Plus, I got Up & Up crayons, colored pencils and more for free with coupon at Target this week. Come back next week, for the final 5 back-to-school offers. See you then!
(Source:
Savings.com
)