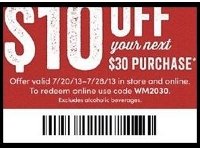 Cost Plus World Market
This week in deals: $10 off your $30 purchase at World Market
How is your summer going thus far? Now that we are past the half way mark for the year, it's time to think about the holidays. I know it's sounds a bit early to start talking about Thanksgiving and Christmas, but if you think about it, it's only a few months away.
In order to save as much money as you can during the holidays, getting your game plan together now and potentially making early purchases with all the wonderful summer discounts, will help you stay on or below your budget.
I've found 5 deals that will help you save some money for the holidays:
Deal #1:
If you need to get some cookware, decorations, furniture and more for the holidays, use this
coupon from World Market
to save $10 off your purchase over $30. They have some incredible sales going on right now and this is one of their best offers.
Expires 7/28/2013.
Deal #2:
It's almost Back to School time! My daughter only has 2 weeks before the start of school. I am going to start my shopping this weekend and this
coupon from OfficeMax
for $5 off my purchase over $25
(applies to office and school supplies)
will come in handy!
Expires 7/27/2013.Deal #3:
Whether you need some shoes or a handbag, use this
coupon from Donald J Pliner
to save an extra 35% on sale items, plus free shipping. If you're thinking about getting a handbag for someone this Christmas, take advantage of this offer.
Expires 7/29/2013.Deal #4:
If you have a growing baby or even a baby shower to attend, with this
coupon from Giggle
, save 50% on your swimwear and apparel purchases. With the birth of His Royal Highness, you can even send a gift to the royal family and save while you're doing it.
Expires 7/31/2013.Deal #5:
I always say that you can't get enough clothing, but it's really true. Right now, use this
coupon from LOFT
to save an extra 40% off your sale purchase.
Expires 7/28/2013.
With these really sweet deals, you can pre-shop for the holidays or even get ready for an upcoming event. See you next week when I bring you 5 more awesome deals!
(Source:
Savings.com
)