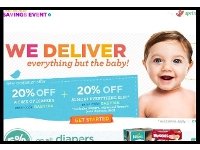 This week in deals: 20% off most items at Diapers.com
Now that tax day is over and done with, we can finally focus on things less stressful. If you're one of the lucky ones that got a return, you'll be able to put it to good use. Whether it's planning for that family trip to the big islands of Hawaii or use it to pay down credit card debt, you'll be happier mentally, physically, emotionally, spiritually and yes, financially.
For those of us that had to pay Uncle Sam, I guess the good news is that we probably made a lot more than we expected. Although it hurts to pay out (
I feel you)
, you can use this year's tax return as a general guideline to help you plan for next year's tax day and hopefully get a return.
Whether you got money from the IRS or gave money to them, I've got this week's top 5 deals for you (
every little bit helps
):
Deal #1:
As a parent, you're constantly having to stock up on clothing, bath items, sunscreen, books and more. Right now, use this
coupon from Diapers.com
to save 20% on most items sitewide (
New Customers only. Excludes diapers, wipes and formula
).
Expires 5/31/2013.

Deal #2:
We give you lots of online savings, but what about the in-store savings? We have plenty of those too! Use this
printable coupon from Lord & Taylor
to save 25% off your entire purchase. This is one of my mom's favorite department stores so she definitely won't be missing out on this offer.
Expires 4/22/2013.

Deal #3:
Are you a fashionista? With this
coupon from Shopbop
you can save 20% on your entire purchase. This is your chance at saving on some of your favorite designer brands and stocking up on your favorite wardrobe pieces.
Expires 4/18/2013.

Deal #4:
Mother's Day is slowly creeping up on us with less than a month away. If you're looking to get your mom something special, how about engraving a special message on something that will be sentimental to her. To help you get started, use this
coupon from PersonalizationMall.com
to save 30% on your entire purchase.
Expires 4/21/2013.Deal #5:
If you're a tea or coffee drinker, I have an awesome offer for you. Right now, save $5 on your purchase over $10 (50% savings) by using this
coupon from Bodum
.
Expires TODAY!

How was tax season for you this year? Did you come out a winner? If you got money back, what are you going to use it for? Please comment below. See you next week when I bring you 5 more incredible offers right to your screen!
(Source:
Savings.com
)