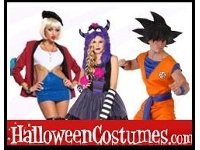 This week in deals: $20 off your purchase over $100 at HalloweenCostumes.com
Next week is Halloween, so if you haven't gone out and purchased your costumes, this is the last week to do so. Moreover, if you're not stocked with candies for the big day, many grocery stores and drug stores are offering BOGO deals and 2 for offers this week.
Once Halloween comes and goes, the holidays shortly creep up on us. So take this time to make sure you sharpen your shopping skills and are ready to play ball with the big retailers. With that said, here are this week's top 5 deals:
Deal #1:
With Halloween next week, make sure you get your costumes quickly. Like NOW! With this
coupon from HalloweenCostumes.com
, you can save $20 off your purchase over $100.
Expires 10/26/2013.
Deal #2:
Many people look to the shopping channels to make their big holiday purchases. Right now,
save $20 off your next order over $100 at HSN.com
. Whether it's the cookies or the designer handbag, you can't miss with their selections.
Expires 10/25/2013.Deal #3:
If you have a pet, you may want to spoil them this holiday season too. Use this
coupon from PetSmart
to get a 30% savings off your purchase over $150, plus free shipping.
Expires 10/26/2013.Deal #4:
Do you need to send out thank you cards for Thanksgiving or maybe even some Christmas cards to friends and family?
Save 30% on your purchase at Expressionary.com
.
Expires 11/05/2013.Deal #5:
If you're looking to get a nice gift for the wonderful woman in your life, use this
coupon from LastCall.com
to save 40% off 1 item during the Everything For Her Sale.
Expires 10/24/2013.
We brought you some amazing offers this week. Remember, if you don't use it, you'll lose it. See you back next week when we bring you five more fantastic deals!

This post contains affiliate links.
(Source:
Savings.com
)