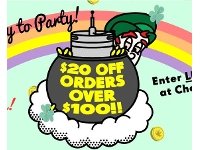 This week in deals: $20 off your purchase over $100 at Urban Outfitters
Can you believe we're already on our last couple of days for February? This year has flown by so quickly.
With March right around the corner, it's time for...dun-dun-dun...spring cleaning! It's time to roll up those sleeves and start cleaning out those closets. It's like digging into a treasure chest filled with things that you didn't even know you had. Take those suckers out, throw a yard sale, and you'll make some money off of it.
On top of spring cleaning, it's a pretty busy month will lots of birthdays and Easter. While there is money to be spent, figure out a budget that will make sense for you and plan accordingly. Do your research and shop online to maximize your savings potential. With that in mind, I've got 5 of the best deals on our site for you:
Deal #1:
Need new clothes for yourself? If you want some stylish wear for any time or day, use this
coupon from Urban Outfitters
to get $20 off your purchase over $100 and free shipping. Combine this offer with items from their
sale section
and you'll get amazing savings!
Expires 02/28/2013.

Deal #2:
Are you
thinking about changing out your flatware, dinnerware or even your linens? Sell your old ones at a yard sale and invest in some new ones. Use this
coupon from Pfaltzgraff
which saves you 40% off your highest priced item.
Expires 03/01/2013.Deal #3:
Spring cleaning probably means you'll be donating some smaller clothes to charity. Because you're donating, you'll probably notice how sparse your closets become, especially your children's. In order to stock up on their clothing, take advantage of the
coupon from Justice
which takes an extra 40% off featured clearance items.
Expires 03/04/2013
.
Deal #4:
Try organizing your home office after you do your spring cleaning. There is nothing like walking into a well organized office and getting your work done with a clear head. Right now, use this
coupon from Office Max
to save 20% off your entire purchase.
Expires 03/02/2013.
Deal #5:
You can't have too many clothes, right? Trends are constantly evolving which makes your wardrobe "in" one month, but "out" the next. In order to keep yourself stylish, pick up a few basics that will always be "in" style. Use this
coupon from Macy's
to save 25% off your clothing purchase over $100.
Expires 03/03/3013.


Start planning for spring cleaning and also make a list of things that you will need. Once you have your list, research and purchase online to get the most bang for your buck. See you next week when I bring you 5 more incredible deals. Happy savings!
(Source:
Savings.com
)