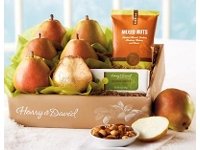 This week in deals: 25% off Harry & David and more
Are you prepping yourself for next week? Thanksgiving is only 1 week away and yes, THE Black Friday will be happening at the same time. If you haven't gotten the chance to do some early shopping, now is the time to do some serious damage and score some incredible deals.
All deals are not created equal, so make sure you look at the fine print and use tips from our
DealPros
in the
Black Friday/Cyber Monday 6 Part series
. You'll have all the tools to come out a winner during Black Friday!
Now let's move on to the 5 best deals on our site this week:
Deal #1:
Do you want to give a holiday gift to your realtor, teacher or colleague? Sometimes you just don't know what to get. When I get a brain freeze, my go-to presents are gift cards or gift baskets? Just in time for the holidays,
Harry & David has a coupon
for 25% off your order. My mom actually digs their fruit boxes and they make for a perfect long distance gift.
Expires 11/16/2012.
Deal #2:
Are you in need of a last minute plane ticket to fly home for Thanksgiving?
CheapAir.com has a coupon for $10 of your flights
to give you an extra discount off your fare.
Limited time offer
(
Must be booked between 11/17/2012-11/26/2012
).

Deal #3:
'Tis the season to be buying shoes. It seems that shoe retailers have stepped up to plate to offer some incredible deals for you to get ready for the winter season. Right now, you can get a 30% savings on your purchase with a
coupon from Rockport
during their Friends & Family sale.
Expires 11/14/2012.Deal #4:
It's time to take out your boxes labeled "Christmas decorations." Now that Thanksgiving is a week away, Christmas is going to sneak up very quickly. If you need some additional decorations
Christmas Central has a coupon for 20% off sitewide
.
Expires 11/16/2012.Deal #5:
If you're sprucing up your home for the holidays, why not spruce up your own look as well.
Prescriptives has a coupon for 25% off
all orders. Their cosmetic line is fabulous! I believe this is one of their best deals we've seen the entire year!
Expires 11/15/2012.Other Offers:
These deals are incredible, but hurry because they are valid today only!
Levi's is having a Flash Sale
from
12-5pm EST
for 40% off all orders. With this sort of discount, it's definitely time to stock up on some jeans. If you like department stores, it's always great to have a
Kohl's sitewide coupon
in your back pocket and this one's for 20% off your entire purchase.
Remember, these expire Today!
Hope you get some early shopping in this week, but if you don't, Black Friday is suppose to be bigger than ever. Save yourself some time and energy by doing some research this week. Take a look at
leaked Black Friday ads
from your favorite stores and get your budget together. See you next week! Ciao!
(Source:
Savings.com
)