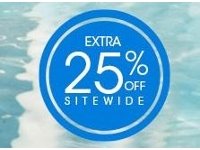 Swimsuitsforall.com
This week in deals: 25% off your purchase at Swimsuitsforall.com
We're only a few days away from our Memorial Day weekend! As we honor all our Veterans who have fought so hard to defend our freedom, we also celebrate and kick off the summer.
With Memorial Day being one of the best times to buy certain items such as appliances, office furniture, apparel, new cars and more, if you need it, this is the time to buy it. You will not only see items on sale, you will also get coupons to save on top of already slashed prices. Memorial Day sales are definitely memorable!
Having said that, here are this week's top 5 deals that will kick your summer off on a positive note:
Deal #1:
It's that time to whip those swimsuits out for Memorial Day weekend. Yes, the day has finally come. If you need a new one, use this coupon from
Swimsuitsforall.com
to save 25% off your entire purchase.
Expires Today!
Deal #2:
It's a good time to get your wardrobe ready for the warm weather because the sun is definitely coming out. Right now, use this
coupon from Reef
to save 30% off your purchase.
Expires 5/28/2013.Deal #3:
Over the weekend, I went shopping to stock up on some summer tees. You can never have enough of them. Use this
coupon from Victoria's Secret
to get 2 tees for $40 or 3 tees for $50.
Expires Today!Deal #4:
With summer comes doing some great DIY projects. At least, I'm looking forward to doing some projects to make my home more homey. With this
coupon from Home Depot
, you can save $5 off orders over $50.
Expires 5/26/2013.Deal #5:
Stock up on your basics. Shirts, tanks, leggings and more are always worn throughout the year. Use this
coupon from American Apparel
to save 20% on your purchase.
Expires Today!
(Source:
Savings.com
)