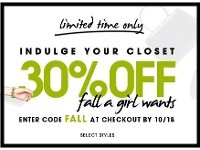 This week in deals: 30% off Fall essentials at Piperlime
Fall is the air, even in sunny Southern California. While I was excited for that crispy air that fall graciously brings, I wasn't looking forward to my neighbor's tree shedding their leaves all into my front yard. It's a big mess considering the size of this monstrous tree.
Besides the lovely weather, I've been excited to start sprucing up my home to make it feel more fall and adding some scary and spooky elements of Halloween which my kids would definitely appreciate. To get things started, I have 5 really amazing deals that will make your fall transition that much more smoother:
Deal #1:
If you're looking at your closet and saying, "I have nothing to wear", you're not the only one. Time to stock up on your fall wardrobe. With this
coupon from Piperlime
, save 30% on fall essentials and get free shipping.
Expires 10/18/2013.
Deal #2:
I just noticed the other day, that my shoes consists of flip flops, running shoes, sandals and more flip flops. I don't know if my garage swallowed my boots or my husband had a secret garage sale while I was sleeping, but I definitely need more weather appropriate shoes. Right now, save $50 off your purchase over $249 by using this
DSW coupon
.
Expires 10/15/2013.Deal #3:
Did you just miss the coupon for 30% off at Gap? I hate when that happens. So don't miss out on the
newest coupon that Gap released for 25% off your entire purchase
for today only. You can stock up on fall basics for your and the entire family.
Expires Today!Deal #4:
Let's not forget that while fall is here, this is also the time to get extreme discounts on past spring and summer goods. If you've been eying designer items that have been well over your budget, now may be the time to nab them.
LastCall.com is taking off an extra 50% off all clearance items
.
Expires 10/16/2013.Deal #5:
Right now, save an extra 50% off The Deals Shop items with this
coupon from DrJays.com
. The shop consists of clothing, accessories and shoes. I found some items up to 80% off and with the additional savings, the items were 90% off.
Expires 10/10/2013.
If you're looking for some amazing fall deals, make sure you look at all the coupons on Savings.com. With merchants offering savings earlier and earlier, you can find deep discounts on essential items right now. Come back next week to see what five deals will be on the top of the list!