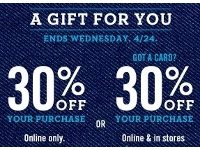 This week in deals: 30% off your entire purchase at Gap
Spring is in full bloom, Tax Day is over and done with and Mother's Day is right around the corner.
With this year going by very quickly, it seems that something is going on every week. I've found that gift buying has tripled this year from last. Not only is my friend getting married, I also have 2 kids in school and all those birthdays add up.
With shopping being on my constant to-do list, coupons have become my newest best friends and because of them, I've spent a lot less than last year. So without further ado, I've got this week's top 5 deals for you:
Deal #1:
Isn't it time to stock up on some basics including your tees, tanks and pants? Right now, save 30% on your entire purchase with this
coupon from Gap
.
Expires Today!
Deal #2:
There's nothing like a good department store sale because you'll always get savings on top of savings. During the Friends and Family sale, use this
coupon from Macy's
to save 25% off your entire order.
Expires 4/28/2013.Deal #3:
You don't have to be a kid to play with toys. If you're a kid at heart or need to shop for a kid, use this
coupon from FAO Schwarz
to save 25% sitewide. A lot of birthdays are coming up, so this will definitely come in handy.
Expires 4/27/2013.Deal #4:
You can't pass up on this great deal! Save 20% off everything with this
coupon from Kohl's
. I get most of my tank tops and leggings from them because the prices are already low, but to use this coupon on top of those prices, I will get one killer deal.
Expires Today!Deal #5:
I love when you can buy high quality designer items for less than retail. With this
coupon from Saks Fifth Avenue
, you can save 25% on apparel, shoes and accessories.
Expires 4/28/2013.

Take advantage of these incredible offers while they are hot. See you next week when I bring you 5 more incredible offers. Happy shopping!
(Source:
Savings.com
)