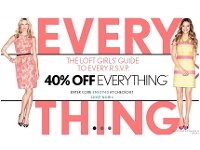 This week in deals: 40% off everything at Ann Taylor LOFT and more
It's Spring break this week (
at least for Los Angeles Unified School District
) and Easter Sunday is coming up this weekend. What are your plans for Spring break and Easter?
In lieu of sending my daughter to camp for 1 week, I'm having her stay at home with me. In order to make sure she isn't bored throughout the day, I made a mini-camp schedule filled with arts, crafts, sports and gardening. Not only will this keep my daughter happy during her break, I'll be happy because I've saved $500 on camp costs.
For Easter, the kids will be participating in an egg hunt which they always look forward to. Instead of doing it in my own home, I take them to a local event and pay $5 for each of them. Because I do this, I save about $40, a day's worth of time and energy, plus the kids enjoy it more because they have a friendly competition with kids their own age.
Since I get to save money on Spring camp and the Easter egg hunt, this week I'm going down my list of birthday gifts I need to purchase and actually purchase them. To get things started, I've got this week's top 5 deals for you:
Deal #1:
Time to break out the credit card if you've been waiting for a great deal to happen. Right now, use this
offer from Ann Taylor LOFT
to save 40% off everything. Whether you need a chic dress for work, a cute wardrobe for your growing baby belly or a sexy swimsuit for a day on a yacht, they have something for every occasion.
Expires 4/01/2013.

Deal #2:
Since it's Spring, it's time to get creative and start working on the various projects that you had been thinking about during the bitter cold winter. If you need arts and crafts, you're in luck today! Use this
printable coupon from A.C. Moore
to save 55% off your entire in-store purchase.
Expires 3/30/2013.

Deal #3:
Do you need to stock up on new skincare products after some Spring cleaning? If you do, use this
coupon from L'Occitane
to save $18 off your purchase over $45, that's a 40% savings!
Expires 4/17/2013.Deal #4:
After doing some much needed organizing in my children's closets, I found a ton of socks without its matching pair. Either the washing machine ate it or it magically disappeared. Whatever the story is, I need to get new socks for my children. With this
coupon from KidsSocks.com
, you can get 30% off your entire purchase.
Expires 4/01/2013.Deal #5:
If you're in need of athletic wear, some sneakers or fitness equipment, the time is just right. Not only is the weather starting to look prettier, you can use this
coupon from Sports Authority
to save 25% on one item.
Expires 3/30/2013.

If your kids are on Spring break or your celebrating Easter, have a wonderful time entertaining the kiddos! See you back next week when I bring you five more incredible deals. Happy Easter!
(Source:
Savings.com
)