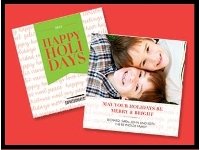 Expressionery.com
This week in deals: 40% off all orders at Expressionery.com
Can you believe it's already November? Crazy as it sounds, the holidays are right around the corner.
According to our
Best Time to Buy Holiday Gifts Guide
, you can start making your purchases as early as this week and still save a lot, especially on electronics. To help you get started, here are the top 5 deals for this week:
Deal #1:
If you need to send out some holiday cards to family and friends, use this
coupon from Expressionery.com
to save 40% on your entire purchase.
Expires 11/10/2013.
Deal #2:
Everyone loves candies and with the holidays right around the corner, it's time to bring out the sweets. With this
coupon from Jelly Belly
, save $15 off your purchase over $75 or more and get free shipping too!
Expires 11/30/2013.Deal #3:
With our
exclusive coupon from The Children's Place
, you can save 15% off your entire purchase. If you haven't, stock up on fall basics for your kids.
Expires 12/31/2013.Deal #4:
With the holiday shopping season underway, you may need to get some new ink cartridge and printer paper for all those in-store printable coupons you'll be printing.
Save $10 off your Office Depot purchase over $50
. It excludes the purchase of technology products, but there's so much more you can purchase.
Expires 11/15/2013.Deal #5:
Whether you need to get a small kitchen appliance for your home or some pajamas for your children, use this
coupon from JCPenney
to save $20 off your purchase over $100.
Expires 11/9/2013.Bonus:
Get a
free $10 gift card with any Babies R Us purchase over $50
.
Expires 11/09/2013.
Don't wait for the Black Friday rush. You can score some amazing deals without having to time your online shopping or stand in long lines. Come back next week for 5 more amazing deals!
(Source:
Savings.com
)