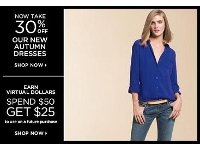 This week in deals: 40% off all orders at The Limited
Just last week, I was talking about stocking up on summer goods. And this week, we're already into the month of October. I can't believe it!
Halloween is a few weeks away and with the weather getting colder, retailers are offering some really incredible deals on fall arrivals. To get you started, we have this week's top 5 deals:
Deal #1:
The weather is definitely getting chillier now that it's fall. If you're looking to update your fall look, it's the perfect time to do so right now. Save 40% on your entire purchase with this
coupon from The Limited
.
Expires 10/05/2013.
Deal #2:
Do you need a date-night sometime soon? Maybe even an escape to your company's Halloween party without the kids? Take advantage of this
Sittercity coupon to save 30% off a 3 month membership
, just in time for the holiday season.
Expires 10/31/2013.
Deal #3:
With the holidays coming up soon, you may be planning a trip to grandma's house in a different state or maybe even a vacation somewhere. Make sure you go in style by having the right luggage. With this
coupon from LuggageGuy.com
, save 32% sitewide and get free shipping.
Expires 10/03/2013.Deal #4:
Right now,
save $25 on orders $50 or more with this coupon from Coldwater Creek
. My mom loves this store and it has some amazing sweaters and jackets. Get weather ready with this amazing offer!
Expires 10/30/2013.Deal #5:
Recently, I stocked up on some jackets and leggings for my children. I wish I had waited because I could have saved an
additional 30% off with this coupon from Land's End
. Expires
10/02/2013.
If you need to switch out the wardrobe in your closet or prepare for the upcoming holiday season, many retailers are offering deals earlier this year. Start preparing now so that you can enjoy your time later. See you next week when I bring you 5 more lovely offers!
(Source:
Savings.com
)