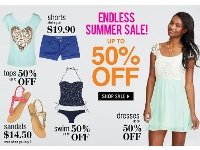 Delias.com
This week in deals: 40% off your entire purchase at Delias
Independence Day is tomorrow, so it's time to celebrate! The whole idea of watching fireworks, eating a picnic lunch at the park and spending time with family and friends is excitement enough, but my eyes are wide open for all the incredible sales that are about to happen.
The Fourth creates another shopping holiday with folks scrambling to find the lowest prices on big ticket items. For my family, those big ticket items are a washer and dryer and we won't stop looking until we get the most bang for our buck.
Since the sales have begun, you should start searching for items that you really need and see if you can catch a good deal. The prices are pretty attractive! With that said, here are this week's top five deals:
Deal #1:
If you have a teenaged daughter, they're probably at the mall with their friends during this hot summer. Of course that means they're shopping too. With this
coupon from Delias
, refresh their wardrobe selection and they can stop paying retail for similar clothing. Best deal to date.
Expires 07/08/2013
.

Deal #2:
Don't miss this Flash Sale! Use this
coupon from Loft
to save $50 off $100 or more. If you plan on spending more, you can use this
coupon from Loft
to save $75 on orders over $150. Plus, free shipping is included.
Expires Today!Deal #3:
This is definitely the season to stock up on all your wardrobe essentials because the deals couldn't get any better. With this
coupon from Amazon
, save 20% on orders of $75 or more on select apparel. You also get free super saver shipping.
Expires 07/08/2013.Deal #4:
If you love watching all the home shopping networks, this deal is for you. Save $10 off one item over $50 with this
coupon from HSN
.
Expires 07/31/2013.Deal #5:
Another fantastic deal on the radar is 30% off one item and free shipping with this
coupon from Timberland
. You can use it on shoes, clothing and more.
Expires 07/07/2013.
Here's to independence, freedom and sales that are firework worthy! See you back next week when I bring you five more top deals.
(Source:
Savings.com
)