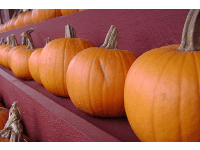 This week in deals: 5% off at Expedia, 15% off at Dollar Rent-a-Car and more
Pumpkins, pumpkins and more pumpkins! It seems like wherever I go, I see pumpkins. That's definitely a great thing! The moment I see those pumpkins displayed at the grocery store or showcased next to the mannequin at a department store, I get really excited because the holidays are about to sweep us off our feet.
With Halloween right around the corner, have you started venturing out to one of your local Halloween pop-up shops? We just bought my 6 year old her first pair of fangs at Halloween City. Not sure if that's something to be proud about, but I did use the 20% coupon that was sent in our mailer (
Yay!
). As Halloween and the holidays get closer, there are so many reasons to shop but the key is to shop smarter. So I've hand-picked five of the best deals on our site.
Deal #1:
When I think of the holidays, I think of traveling. If most of your family is in one region and you're in another, most likely you'll have to travel to the location where majority rules. Holiday travel can be very expensive because that's when most people travel. Starting today,
use this Expedia coupon
to get 5% off your hotel booking of $100 or more (
this is an exclusive deal, muhahaha!
). This is the best Expedia offer we've seen in a very long time.
Expires October 8, 2012.

Deal #2:
Now that we've taken care of your stay, we need to talk about how you're going to move around town. If you have a big family, minivans and SUVs are the priciest rentals during the holiday season (
trust me, I've rented one of those suckers and I paid premium prices
). Use this
coupon from Dollar Rent-a-Car
to save 15% on your next premium, minivan or SUV rental. Depending on how long you are going to use the rental, you will easily knock off a few hundred dollars from your total.
Limited time offer.
Deal #3:
Are you already shopping for your holiday gifts? Congratulations! Planning early is the best way to shop smart. If you're thinking about buying a nice watch, maybe a wetsuit or even a pair of Uggs,
use this coupon at
Kona Sports

and get 30% off your entire purchase
. Couple that with deals from the
Last Call Rack
and save up to 70%.
Expires October 4, 2012.

Deal #4:
This one's for the babies in your lives...yes your dogs! I'm sure you're all thinking about how you can dazzle your dogs for Halloween. Look no further,
this coupon from Cherrybrook
will save you 20% off all Halloween costumes. They have everything from the
Flapper Dog
to
Superdog
costumes and they are absolutely adorable!
Expires 11/03/2012.

Deal #5:
Holidays were a huge part of my childhood memories. It's funny to look back at pictures that were taken 25 years ago and remember what games I played, what I ate and the sneaky things I tried to get away with. With Halloween rolling through and the holidays that follow, I'm sure you're ready to capture the special moments on camera and print them to share with family and friends . Stock on on your inks right now because
4inkjets! has a coupon
for an additional 10% off sitewide, giving you a savings up to 85% off.
Limited time offer.


Here's to another week of "This week in deals" where we save you time, energy and money. With the holidays right around the corner, let's be the smartest shoppers we can be!
(Source:
Savings.com
)