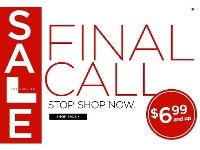 This week in deals: 50% off 1 item from The Limited
Today is the last day in July which means school is right around the corner. My daughter has 2 weeks before school officially starts (
ahh! I dread this every year
). What does this mean for us? It's officially time for back-to-school shopping.
While I'd rather be sipping a lemonade or a mimosa poolside, the reality is that it's time to get off my rear-end and start shopping for the goods.
For the next few weeks, I'll be bringing you the top 5 back-to-school coupons and deals that will save you money and make your life easier. Here are this week's best offers:
Deal #1
: Are you in need of a good work outfit? If you've been off for the summer and need to head back to the office, here is a
coupon from The Limited
where you can save 50% off one item. Now that's an incredible deal!
Expires 9/02/2013.Deal #2:
You're kids have probably outgrown last year's attires. It's time to restock those basics for the new school year and with this
coupon from The Children's Place
you can save 20% on your entire purchase.
Expires 9/09/2013.

Deal #3:
Does your kid need a new backpack?
Use this coupon from Amazon
to save 20% on backpacks.
Expires 8/04/2013.Deal #4:
I haven't forgot about you moms! About this time of year, if you've had the chance to look down at your handbag, it's become a little raggedy. So in honor of back-to-school, use this
coupon from Kate Spade
to save an additional 25% off your sale purchase. I scored an incredible deal on a purse and wallet!
Expires 8/02/2013.

Deal #5:
If you have a teenager that's going back to school, I have the perfect deal for you. With this
coupon from Urban Outfitters
you can save $20 off your purchase over $100, plus free shipping.
Expires Today!
Start your back-to-school shopping as soon as possible. If you wait too long, not only will you miss out on great deals, you may be left with leftovers. Not a good thing right before school starts. See you back next week when I bring you 5 more incredible deals.
(Source:
Savings.com
)