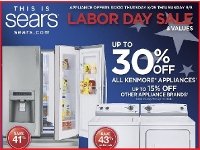 This week in deals: $50 off $300 or more on select appliances at Sears
While Labor Day has come and gone and people think they've celebrated their last summer days, summer isn't officially over until September 21st. So don't start packing away your summer clothes because it's still very hot outside and will be until the end of this month.
If you didn't get a chance to buy a new car, summer clearance items, appliances and more because you were too busy grilling and partying it up in a pool, you still have time to score some last-minute summer deals.
Deal #1:
Many people say September and October are the best months to buy large appliance items. If you're in the market, use this
coupon from Sears
to save $50 on your purchase over $300 on select appliances, shipping is included.
Expires 09/08/2013.
Deal #2:
From furniture to shoes, use this
coupon from Overstock
to save $10 off your purchase over $100 and free shipping.
Expires 09/05/2013.Deal #3:
Do you need some new running shoes or maybe even some workout shorts? With this
coupon from Footlocker
, save $10 on your orders over $50.
Expires 09/30/2013.Deal #4:
If you're ahead of the game and starting to look for holiday gifts, I've got a great deal for you. With this
coupon from Brookstone
, save $10 off your purchase over $80. They have everything from towel warmers to outdoor speakers and the selections are endless. It's definitely time for you to score your holiday deal now!
Expires 09/30/2013.
Deal #5:
If you missed most of the Labor Day deals, there's one that is still available. You can save up to 50% and get free shipping sitewide with this
offer from HP
.
Expires 09/07/2013.
School is now in session, Labor Day has come and gone and the holidays are right around the corner. The sales and deals are only going to get better as we get closer to the holiday months, so keep your eyes and ears open. See you next week when I bring you five more incredible offers!
This post contains affiliate links
(Source:
Savings.com
)