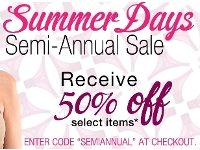 This week in deals: 50% off all featured styles at Cosabella
Summer is now in full swing! The kids are home, the weather is warm and the parties don't (
won't
) stop. If you're in the same boat as I am, life isn't so bad.
I have 6 more parties to go to between June and July, so it's definitely time to put my game face on and coupon my way to the sale section. Let's get this party (
I meant shopping
) started!
Without further ado, here are this week's top five deals:
Deal #1:
An intricate part of your wardrobe is wearing a nice bra and nice underwear that brings your innermost confidence (
sexy
) out. Right now, take advantage of the
Cosabella Semi-Annual Sale
to save 50% on all featured styles. This brand is quite the hit among the celebrity crowd.
Expires 6/30/2013.
Deal #2:
It's pool party time! Save 50% off all swimwear with this
offer from Lord & Taylor
. You can never have enough swimsuits!
Expires Today
.
Deal #3:
Still in need of a good selection of basics for your wardrobe? Well, wait no further. Use this
coupon from Tommy Hilfiger
to save 40% on your entire purchase. Act fast, this deal
expires today!Deal #4:
Are you in need of some award-winning beauty products? With this
coupon from CVS Pharmacy
, you can save 20% on the 2013 Cosmetic Executive Women Insiders' Beauty Award products.
Expires 6/23/2013.Deal #5:
You just heard me say that you could never have too many swimsuits. I can't say that enough and to prove it again, I have a
coupon from DownEast Basics
that saves you 50% off all swimwear.
Expires 7/07/2013.Other Deals:
You can save 40% on your entire purchase during Girl's Night Out, with this
coupon from LOFT
(Expires 6/27/2013)
. For your kids, save an additional 25% off clearance items when you use this
coupon from OshKosh B'Gosh
(Expires 6/24/2013)
.
Have another fantastic week and see you back next Wednesday when I bring you 5 more awesome deals!
(Source:
Savings.com
)