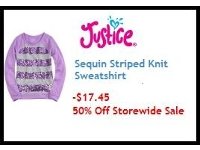 This week in deals: 50% off all orders at Justice
Now that the carnivals are rolling into town, the pumpkin patches are getting crowded and everyone has their festive decorations out, it finally feels like fall.
As each day passes, there are more reasons to buy stuff than not. Every time I walk through Target, the oranges, browns and the deep reds all put me in a state of mind where I start to feel like I am back home, reliving the emotions attached to my childhood and feeling all warm and fuzzy inside. Retailers definitely know how to grab your attention and subliminally have you buy more things than you need.
As a person who likes to save on almost everything, even in the midst of psychological ploys and retail strategies, there's always a way to come out a winner and save. For starters, here are this week's top five deals:
Deal #1
: Does your daughter need some fall clothing? Beating out the current best offer for 40% off everything, use this
coupon from Justice
to save 50% on your entire purchase.
Expires 10/17/2013.
Deal #2:
Need a switch from your everyday wear? Right now, save 40% on your purchase and get free shipping with this
coupon from The Limited
.
Expires Today!Deal #3:
Chanukah is early this year. Start shopping for presents right now with this
coupon from JCPenney that will save you $20 off your purchase over $100
.
Expires 10/19/2013.Deal #4:
If you feel like you're behind on fall decorations, it's okay because
Pier 1 Imports is offering a coupon for 20% on your entire purchase
. This is one of their best offers of the year.
Expires 10/20/2013.Deal #5:
If you're looking to buy a gift for a gal in your life, you can't go wrong with jewelry. Take advantage of this
coupon by
saving 50% on your Amrita Singh Jewelry purchase
.
Expires 10/21/2013.
We have the shortest holiday shopping season this year. Thanksgiving falls on the tip end of November and Chanukah occurs at the same time. Retailers are well aware of this fact and releasing some of their best deals earlier, so make sure you take advantage of a great deal when you see one!
(Source: Savings.com)