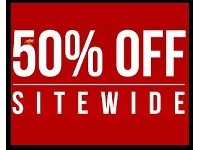 This week in deals: 50% off all orders at The Body Shop
Now that Black Friday and Cyber Monday have come and gone, you'd think that all the spectacular deals would have also come and gone. This holiday season, retailers are playing it a little bit different.
It seems that this year marks a new direction in holiday shopping. Starting from Black Friday, deals were being released weeks in advance. More stores opened on Thanksgiving, and sales were being extended through the weekend. And now that 2 of the biggest shopping days have gone, retailers are still fighting it out to get customers into their store, hence the continuation of amazing deals.
This week, I have some incredible deals that will help you shop last-minute or even stock up on goods you need for the new year:
Deal #1:
You can't get enough of body care. It's almost winter which means a lot of dry skin, so stock up now! With this
coupon from The Body Shop
, save 50% on your entire purchase.
Expires 12/23/2013.

Deal #2:
If you need to stock up on a variety of things, use this
coupon from Kohl's
to save 25% off your purchase over $100.
Expires 12/09/2013.Deal #3:
Buying things for your pets can get pretty expensive. Right now, use this
coupon from

PetSmar
t
to save 30% on your purchase over $150, including free shipping.
Expires 12/08/2013.Deal #4:
Do you need to get a nice gift for wifey, mom or sister? Use this
coupon from Murad Skin Care
to save $25 off your purchase over $100. Plus, you get free shipping and free samples with your purchase.
Expires 12/08/2013.
Deal #5:
If you're looking to buy some nice clothes or a nice pair of jeans, right now you can save
30% off your entire purchase and get free shipping
at the Lucky Brand.
Expires 12/05/2013.
Enjoy the rest of your holiday shopping and see you next week when I bring you 5 more incredible offers!
This post contains affiliate links
(Source:
Savings.com
)