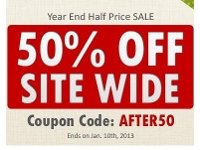 This week in deals: 50% off at My Favorite Pet Shop and more
Happy New Year! I want to wish everyone a year full of prosperity, happiness, good health, good company and of course, lots and lots of great deals!
Since buying a new home, I've added another resolution to my list this year; to double my savings. I want to take the money saved and put it back into our home renovations. For me, having a clear set of goals helps shape my year.
Not sure if you got to shop the After Christmas sales, but I took full advantage of it and saved more than 50% off retail. If you were too busy with other holiday activities, no need to worry because retailers are starting the year off with a bang and I've got the five best deals to kick off 2013:
Deal #1
: For all you pet owners/lovers, I've got an incredible deal for you. Right now, use this 50% off
coupon from My Favorite Pet Shop
to save on your entire purchase. Yes, that's half off your entire purchase.
Expires 1/10/2013
.
Deal #2:
Winter break is almost over for the kids. My daughter goes back to school next week and she definitely needs new clothes because she's grown about an inch and a half since the last time I shopped for her. I'm going to fully take advantage of the
Monster Clearance Sale at Children's Place
where I can save up to 75% off.
Expires 1/07/2013
.
Deal #3:
One of my favorite retailers,
Land's End is offering a $20 Bounce Back e-gift card
with your purchase over $75. Combine this offer with their
Winter Sale
and save up to 70%, plus get money to use towards your next purchase. You're a winner all around!
Expires tomorrow 1/3/2012
.
Deal #4:
With labor being so expensive for home improvement projects, I've decided to tackle on some projects that are within my scope such as painting the rooms. In order to maximize my savings, I will be shopping the
clearance section at

Harbor Freight Tools
for up to 80% off. I was recently introduced to this store by my massage therapist and it's amazing how much you can save.
Limited time offer
.
Deal #5:
When we got the keys to our new home and we were walking around, we found out the previous owners decided to take the refrigerator with them. After eating out almost every day, it didn't make financial sense to wait for another big sale before we purchased our appliance. The only really great deal we found was this offer from
Home Depot for 10% off all major appliances over $397
, plus free delivery. If you've been to 5 or so stores comparing prices, you know this is a great deal.
Limited time offer
.
Hope everyone had a wonderful start to 2013! With a whole year in front of us, I can't wait to bring more and more incredible deals to you, so that you can reach your financial goals and shop within your budget. Here's to a new year and see you back next week!
(Source:
Savings.com
)