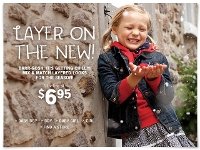 This week in deals: 50% off at OshKosh B'gosh, Up to 80% off at A Pea in the Pod and more
It's finally feeling like Fall in Los Angeles! We're still in the 70s during the day, but the crisp cold air in the morning and night is definitely in tune with the season. The pumpkins that seemed out of place last week are now just sitting pretty at the many patches across the city.
In a few more weeks, Halloween is going to gobble us up and then we'll be well off into the holiday season. So before we head into the busiest shopping season of the year, let's hunt for those awesome deals now. Look no further, I've gathered 5 of the best deals on our site for you to take advantage of.
Deal #1:
Do you have a young child that grows out of their clothes by the week? I have one of them! My daughter grew out of her clothes, shoes and everything so quickly, I was at the stores on a consistent basis and still am. Sometimes buying clothes seem like a waste of money, especially if it's worn once or twice. My best advice is to buy the clothes cheap so that it just feels like an extension of diaper costs. Right now, get 50% off many items with this
OshKosh B'gosh offer
. This is an incredible deal that only lasts thru
tomorrow 10/11/2012
.
Deal #2:
When I was pregnant, finding maternity wear was the most difficult thing ever. I really didn't start showing until I was about 6 months pregnant, but once I did, I had problems finding anything I liked. When I did find something I liked, it came with a very high price tag. So if you're looking for the perfect gift for a pregnant mama during this cold season, get them a stylish designer sweater that does not shout maternity wear with a
savings up to 80% off at A Pea in the Pod
.
Expires 10/20/2012.

Deal #3:
As any school-aged parent knows, once your child walks through those school doors, you're back to doing homework all over again. And after a long day at school, getting your child to do homework is no easy task (
this is the case for me
). My daughter would rather play make believe with her Monster High dolls. I finally figured out that I needed to shop where the teachers shop and get manipulatives and projects for her, so that she could stay focused.
With this

Lakeshore Learning coupon
, get 30% off one full-priced item
for a limited time
.
Deal #4:
The holidays are right around the corner! What does that mean? Party, party, party!! If you're hosting a Halloween Party, Thanksgiving dinner, Christmas dinner, New Year's Eve party, you've got to send those invites out. Of course, you have the Evite option, but sometimes those just come off very informal. Right now, save 40% on your entire purchase with
this coupon from Wishing Tree Designs
.
Limited time only.

Deal #5:
Buying stocking stuffers now? I get stuff all throughout the year and place them in box labeled Christmas. One of the best items that make for a great stocking stuffer are bath and body items. Everyone needs to moisturize and smell good, plus it's something that we use on a daily basis. Lucky for you,
Bath & Body Works has a coupon
for 20% off your entire purchase.
Expires 11/2/2012.


With the holidays fast approaching us, there are so many amazing deals popping up on a daily basis. Whether you're scanning
Savings.com
or waiting to get your top 5 deals every week, we've got you covered! Here's to another week of "This week in deals", see you next week!
(Source:
Savings.com
)