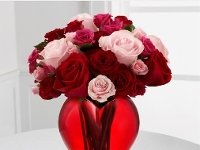 This week in deals: 50% off flowers and gifts from FTD at Groupon
How much have you budgeted for Valentine's Day? According to the
National Retail Federation
, the
average person will spend about $130.97 for Valentine's Day
and the total spending is estimated to reach $18.6 billion dollars. From those figures, men are expected to spend an average of $175.61 and women are expected to spend an average of $88.78.
As consumers are getting smarter about comparison shopping and getting the most bang for their buck, online shopping is expected to rise up to 26.3% this year. The deals on chocolates, flowers and jewelry are so incredible online, especially combined with coupons, it's almost crazy not to shop online.
With Valentine's Day only one week away, I've found five incredible deals that will get you started on the hunt for the perfect gift for your loved one:
Deal #1:
Flowers, flowers and more flowers. I don't think I would ever get sick of getting flowers. Go to
Groupon and save 50%
on $40 worth of flowers and gifts from FTD

for your sweetie pie, honeybunch or schnookums
.
Expires 2/07/2013.
Deal #2:
Do you want a one stop Valentine's Day gift shop? If you do,
Kohl's has a coupon
for 15% off everything. Combined with their already low prices, you'll score some amazing savings. You can buy everything from chocolates, candies to a diamond ring.
Expires 2/11/2013.

Deal #3:
Did I say diamonds are a girl's best friend? Right now, buy one and get one 50% off on jewelry, accessories and shoes with this
coupon from Target
. This offer includes free shipping. Get a jewelry or 2 in this case and save money on your honey!
Expires 2/09/2013.

Deal #4:
Do you need unique gift ideas for this Valentine's Day? My real estate agent gave her husband a website. While it's not flowers and chocolates, I thought the idea was clever and in line with the times. To help out with costs, use this
coupon from Godaddy.com
to save 47% off your purchase.
Expires 2/12/2013.Deal #5:
How about sending a cute love message via video? You can buy the camcorder, record yourself and give it as a gift. Use this
offer from Canon
to get an extra 20% savings on all clearance camcorders. The prices are really low!
Expires 2/28/2013.
Whether you decide to spend a lot of money or very little, like myself, the most important thing is that the time spent together is special. See you next week when I bring you five more amazing deals!
(Source:
Savings.com
)