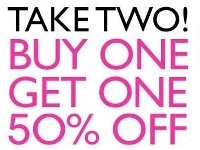 This week in deals: Buy one, get one 50% off at Nine West
Can you believe that it's already May 1st? This month will be a very busy one with Cinco De Mayo (5th), National Teacher Day (7th), Mother's Day (12th), Memorial Day (27th) and many birthdays as well.
With a busy month ahead of us, hopefully you've had the chance to sit down and create a spending budget so that you don't get yourself in trouble at the end of the month. If you haven't, take a moment to create of list and put a budget on each of them (
you'll thank yourself in the end
).
Once you have your budget in place, it's time to go shopping and get the most bang for your buck. Here are this week's top 5 deals:
Deal #1:
Do you need some cute sandals to go along with your long summery jersey dress? Or does your mom like cute flats that you can get her for Mother's Day? It's a win-win situation. You can use this
coupon from Nine West
to buy one and get the second one for 50% off. So sandals for you and flats for mom.
Expires 5/06/2013
.
Deal #2:
Summer is right around the corner and that means it's time to see if you have your summer wardrobe ready to go. During spring cleaning, I realized I had no shorts to wear this summer. So now, I am on the hunt for a good bargain on shorts. Right now, use this
coupon from Guess Factory Store
to buy one and get your second item for 50% off.
Expires 5/14/2013.Deal #3:
Cookies make the perfect gift for any occasion. With this
coupon from David's Cookies
, save $5 on all orders and get free shipping too! I'm a sucker for chocolate, so chocolate chip cookies would probably melt my heart.
Expires 5/31/2013
.
Deal #4:
Get some soles for yourself and a child in need. Use this
coupon from TOMS
to save $5 on your purchase over $25 and make a difference in a child's life. When you buy one pair of TOMS, one pair will be given to a child in need. To this child, it's more than a shoe. It's a ticket to their health, education and confidence.
Expires 5/12/2013
.
Deal #5:
Whether you need kitchen items, snacks, stationary or furniture, use
this coupon from Cost Plus World Market
to save 10% on your entire purchase. I'm in need of some nice patio furniture, so this coupon will definitely come in handy.
Expires 6/30/2013.
There are so many great things you can get this week. If you do go off tangent from your original list (
because we all do
), make sure that you get something that you really need or you had planned on getting at a later date. See you next week when I bring you 5 more incredible offers right to your screen!
(Source:
Savings.com
)