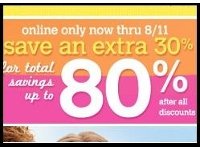 This week in deals: Extra 30% off on clearance items at Justice
The countdown to back-to-school has officially begun. Of course, every district and state have their own starting dates, but it's getting nearer and nearer. Here in Los Angeles, school begins next week!
I've done 90% of all my daughter's back-to-school shopping, but I still have to get through the remaining 10% this week. I am dreading the fact I still need to shop more, but it's got to be done soon (
like now!
).
If you have a school-aged child and you need to get their school supplies in order, take advantage of the many sales and discounts that retailers are offering right now. Whether you're just getting started or almost done, I have this week's top 5 back-to-school offers for you:

Deal #1:
If you need to get clothes, boots, backpacks and more, right now, use this
coupon from Justice
to give you an extra 30% off clearance items. There are so many items marked down heavily and with this additional discount, you'll be buying them for next to nothing.
Expires 8/11/2013.Deal #2:
Do you find yourself with another to-buy list after school has gone into session? I've noticed that after your child starts school, you begin to see certain things that they need. With this
offer from The Children's Place
, for every $40 you spend you get $20 to spend on your next purchase. I will definitely take advantage of this one!
Expires 9/09/2013.
Deal #3:
If you have a teenager to shop for, take advantage of this
coupon from Aeropostale
. You get 30% off any one item. I would definitely use this towards a more pricier purchase such as a backpack.
Expires 8/11/2013.Deal #4:
I wish my kid's wore uniforms to school, this would end the morning meltdowns over what to wear. For those of you who have kids that wear uniforms to school, use this coupon from
Lands' End
to save 30% off regular priced uniforms
(Expires 8/13/2013)
. You can also get this
offer from Macy's
to save an extra 40% off girls' uniforms.
Limited time only.Deal #5:
You can't have too many clothes for the kids, especially how quickly they grow out of them. Use this
coupon from Kohl's
to save an extra 15% on kids' apparel. Expires 8/18/2013.
You will have one stylin' kid. With all the extra discounts that you will be getting on your apparel purchase, you might as well stock up. See you next week when I bring you 5 more incredible back-to-school offers.
(Source:
Savings.com
)