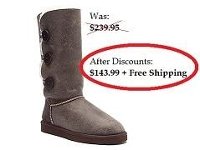 This week in deals: Save up to 40% or more on UGGs at OnlineShoes.com
Are you getting ready for this awesome Super Bowl weekend? Whether or not you're rooting for the 49ers or the Ravens, you know it's all about the grub, the commercials and of course, the halftime show!
With food almost running hand in hand with the actual game, make sure you check out your local grocery stores' weekly ads because they will be running some sweet deals on chips, dips and everything that will make your party a huge success. Oh, and don't forget to
vote heads or tails for a free pizza at Papa Johns
. Last year, I scored a free pizza!
With the festivities just getting started, I bring you the top five deals that will have you saying TOUCHDOWN!
Deal #1:
Are you in below freezing temperatures? Or are you looking to keep your foot warm and cozy? If you've been searching for a good deal on a pair of UGGs for a long time, this is your time to shine and score a great deal. Use this
coupon from OnlineShoes.com
and save an extra 10% off already slashed prices, plus free shipping. Take a look at this very popular
Bailey Button Triplet
boots. With the extra 10% savings, you save a total 40% off the retail price. I haven't seen prices this low on popular UGGs!
Expires 01/31/2013.
Deal #2:
I just bought a house and so there are many things I need for the home including small appliances. Right now, print this
Best Buy coupon
for 20% off small kitchen appliances. This will give you some really nice savings!
Expires 02/13/2013.Deal #3:
Do you need a little oomph to your wardrobe? Right now, get an
extra 70% off women's apparel and accessories at Juicy Couture
(
discount taken automatically at checkout
). You can save up to 91% off original prices. Now that's a deal. TOUCHDOWN!
Expires 01/31/2013.

Deal #4:
This next deal is a shout out to one of my favorite local drugstores (
the managers are always so pleasant, they must have a great hiring team
). Use this
coupon from CVS Pharmacy
to get $15 off your purchase of $60 or more. With all the offers that the store has, you can save a lot on your necessary household items.
Expires Today!
Deal #5:
Do you need to stock up on those beauty products? Right now, save 20% on your entire purchase with this
coupon from ULTA Beauty
. They have a great selection and I love that they cater to everyone.
Expires 02/02/2013.
Hope you have lots of fun this weekend! Remember, we're watching football history unfold before our eyes and there really are no losers. Stay warm, eat good, cheer your team, laugh out loud and just have plain old good company. See you next week, when I bring you five more awesome deals!
(Source:
Savings.com
)