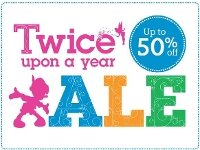 This week in deals: Up to 50% off at Disney Store and more
Now that we're onto our second week of the new year, are you making sure you're writing 2013 on everything including your checks? I'm still guilty of living in 2012.
For me, the week started off really hectic because my older one started her new school and it felt like I was back to "Back-to-School" week. I was given a whole list of things I needed to get for her. So this week, I am definitely on the hunt to find some incredible deals!
Whether you're in the planning stages of a Super Bowl party, Valentine's Day or working on your New Year's resolutions, I've got this week's top 5 deals for you:
Deal #1:
Who doesn't love a little Disney in their life? During the
Disney Store's Twice Upon a Year Sale
, you can
save up to 50% on hundreds of select items
. Remember, this sale only occurs twice a year! Maybe you can stock up on this year's birthday gifts or even some Christmas gifts?
Limited time offer.
Deal #2:
Do you want celebrity style at a fraction of the cost? I do! Use this
coupon from Juicy Couture
to save an extra 50% off sale items (this is on top of the already amazingly reduced prices). Just take a look at the
Collegiate Crest Velour Pant

s
that retailed for $88, on sale for $59.99 and final price, $29.99 (66% savings). Take advantage of these savings because they don't happen very often.
Expires TODAY!Deal #3:
I love when I can save even more money at a store with a Dollar in it's name. Right now, use this
coupon from Dollar General
to save $5 off your purchase over $25. You can find almost anything here! If you're looking to have a Super Bowl party on a budget or save on some Valentine's Day candies, make sure you take a look at their selections.
Expires 01/12/2013.

Deal #4:
I am always on the hunt for my next dress. Even though I don't attend that many functions or events, I like being prepared. Last minute dress shopping is a nightmare. If you've done it, you know what I mean. I hate settling for less and why should I? Save an extra 20% on clearance dresses
with this coupon from Victoria's Secret
. You can't go wrong with their selection and the fit is always flattering.
Expires TODAY!
Deal #5:
I love giving custom gifts and my friends love receiving them. With this
coupon from Ink Garden
, save 50% on all orders. Many of my Christmas gifts came from this store and everyone who received something not only loved it, they are actually using it!
Limited time offer.
Hurry, hurry, hurry! Some of these awesome deals expire today, so head on over quickly to score yourself a deal. The new year has begun, so let's all start off on the right foot and make this one a memorable one!
(Source:
Savings.com
)