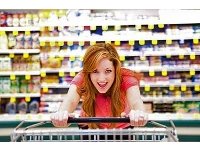 Three Easy Ways to Save Money (and Time!) at the Grocery Store
Although I am a huge advocate of using coupons to cut the bill at the grocery store, there are other ways to save that don't involve coupons.
These are things that everyone can do to make a difference in an area that often takes-up a large portion of a household budget, the grocery bill.
Read on for my three tips to cut your grocery shopping bill--and save money at the same time!
Plan Ahead

We all know that last minute grab and go shopping isn't doing us any favors, but with our go-go-go lifestyles it seems like the path of least resistance is just the way it has to be. Unfortunately the grocery stores know this and plan their prices accordingly to get the most money out of our pocket and into their store. By taking a small amount of time each week to plan the meals your family will eat it is possible to cut your grocery bill significantly. Not only will it save you money by giving you the time to take an inventory of what you already have on hand in your home, but it can actually save you time, too.

When you're not constantly driving back and forth to the grocery store for that last minute taco seasoning, or steak sauce you'll be able to use that time to do much more important things like relaxing or spending time with your family. If you're not sure to how to get started with meal-planning there are lots of online resources to get you started. Two of my favorites include MealsMatter.org and RelishRelish.com.


Shop with the Sales Cycles

Believe it or not, stores don't just play "sale price roulette" to decide what will be on sale that week. Everything has a sales cycle that determines when it will hit its rock-bottom price. This is when you want to buy. The length of the sales cycle will depend on the product and can even depend on what area of the country you live in. As a general rule you can count on an item hitting its rock-bottom price about every six weeks. When you learn to "work the cycle," you are saving the difference between the retail price and rock-bottom price. This difference can be even as much as 50% or more per item! When you are buying an average of twenty items per shopping trip this can really create substantial savings.


Stockpile

Does this mean that you have to have 600 boxes of JELL-O? No. Stockpiling is simply buying enough of a product when it reaches its rock-bottom price to get you through the rest of that sales-cycle. Again, this not only saves you money, but can also save a remarkable amount of time on your weekly shopping trips. When you take the time to build a formidable grocery stockpile you might even be surprised to find that you don't even have to go to the store that week if you don't feel like it since you already have everything you need for your meals on hand. Stockpiling is especially important when it comes to meat. Even if all you did was stockpile meat when it hits its rock-bottom price you will see an impact on your grocery bill.
And there you have three ways to
save money on groceries
! For more couponing tips, visit my blog
BargainBlessings.com
.
What are some ways you use to save on grocery shopping? Tell me in the comments!