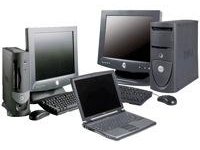 Three Tips When Buying a New Computer
In today's day and age, using a computer is a daily occurrence for most people. If you need to upgrade to a new computer, no matter the reason, you probably have one thing on your mind: getting what you want and need at a reasonable price, without giving up too many features.
Below are three ways to save when buying a computer:
Buy online. When recently shopping for a new laptop computer for my business, I compared the price of units online to those at local stores such as Best Buy and Wal-Mart. I was surprised to find that online pricing was almost always $25 - $50 cheaper. As you can imagine, I decided to order online.


Don't buy more than you need. As you probably know, there are hundreds of different ways that you can configure a computer. While some people need the best of the best, this may not be the case with you. Why purchase a computer built for advanced multimedia use when all you do is check your email a few times per week? Know what you use your computer for, and then purchase one that suits you.


Consider desktops, laptops, and netbooks. Did you know that you can purchase a netbook for as little as $200? These may not offer the most comprehensive features or the largest screen, but for basic use they are a great tool. Of course, you can also compare the prices of desktops and laptops. On the low end, you can find complete units for approximately $300. (For more tips on getting the best netbook for your money, check out Tech-pert Rick Broida's post on the subject.)

While your number one goal may be to
save money
, you want to make sure you are getting what you need in return. You are not saving if you buy a cheap computer, realize that it doesn't have what you want, and are then forced to buy another.
The next time you are in the market for a computer, consider the three tips above for saving money.
Chris Bibey is a freelance writer and internet marketing consultant based in Pittsburgh, Pennsylvania. He has two books in print, and is working on a third. Chris manages a popular freelance writing blog, while also writing for sites such as Banks.com and MoneyCrashers.