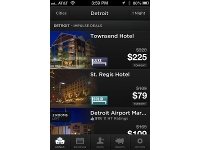 Three apps that make hotel booking cheap and easy
So you can't take this brutal winter a minute longer. Time to pile in the car and head south. Just one problem: Where will you stay, both along the way and once you get there?
As long as you stock your smartphone with a hotel-booking app or two, you'll never have to worry about finding a roof to put over your head. Below I've rounded up three travel-friendly apps for locating, evaluating, and even booking your next hotel stay.
The app you want when traveling the globe, Booking.com (iOS only) boasts more than 250,000 properties (hotels, hostels, B&Bs, apartments, and more) in 177 countries.
You can find places to stay in your immediate area, along your route, or wherever you're headed. Assuming you've signed up for a Booking.com account, you can use the app to actually reserve your stays. And iOS users can even add bookings to their calendar and/or Passbook.
Just because you waited until the last minute to book a hotel doesn't mean you have to pay a small fortune for a good one.
Hotel Tonight promises same-day discounts of up to 70 percent at upscale hotels in major cities. The deals appear after 12 p.m. on the day you want to check in, so it really is the ultimate tool for last-minute deals.
The selection isn't always great (Hotel Tonight "personally" vets hotels to bring you only the best spots), but the deals definitely can be. Here in Detroit, a stay at a suburban Marriott was listed for $134 at Hotels.com, but Hotel Tonight had it for $79. Your mileage may vary, of course.
TripAdvisor is like Yelp for travel. It gives you zillions of real-world users reviews, not just for hotels, but also for restaurants and area attractions. Some reviews also include photos, a great way to contrast actual hotel rooms, lobbies, etc. with what you see in the hotel's promotional materials.
The app's Near Me Now option is great way to find, say, the best hotels and restaurants in your immediate area, but you can also look up listings by entering a particular address.
TripAdvisor is available for all the major mobile platforms, including Android, iOS, and Windows Phone.
Have you found a hotel app you like better than these three? Tell me about it in the comments!
Veteran technology writer Rick Broida is the author of numerous books, blogs, and features. He lends his money-saving expertise to CNET and Savings.com, and also writes for PC World and Wired.


(Source:
Savings.com
)