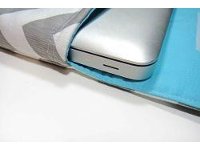 Three cool DIY computer accessories
DIY projects aren't limited to tea cozies and paracord bracelets. If you're into saving money and making stuff, you can whip up some cool computer accessories using little more than some readily available household items.
1. Laptop sleeve
Carrying your laptop in a boring black case is exactly that: boring. You can add some visual flair (and some practical padding) by creating
a custom laptop sleeve
.
All you'll need is some fabric, batting, and Velcro. You'll also need to know your way around a sewing machine. The tutorial focuses on a 13-inch laptop, but you can easily modify it for a larger or smaller machine.
2. Laptop stand
A laptop stand can help keep your PC properly ventilated, while at the same time raising the screen to a more comfortable viewing height.
3. Wrist rest
If you spend a lot of time "mousing around" at your computer, you should definitely use a wrist rest. Nobody likes a cold wrist, which is the inevitable outcome during these winter months, and proper elevation can help you avoid repetitive-stress injuries.
Instead of buying a wrist rest, however, consider making your own. For example, you can cut an old mousepad into squares, then stack a few of them to create a simple, comfortable place to lay your wrist. Even easier, you can fold a soft kitchen towel or washcloth to roughly the size of a coaster.
Alternately, fill a soft old sock with rice, tie off the end, and use that for wrist resting. And if you're handy with a needle and thread, you can use nearly any scrap material to
sew a rice-bag wrist rest
.
That's my favorite option, because if you microwave the bag for just a minute, you'll have a warm wrist rest.
Have you found any other cool PC-related DIY projects? Tell me about them in the comments!
Veteran technology writer Rick Broida is the author of numerous books, blogs, and features. He lends his money-saving expertise to CNET and Savings.com, and also writes for PC World and Wired.
(Source:
Savings.com
)