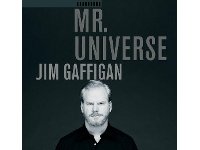 Three cool stand-up comedy videos you can buy for $5 each
I love cheap entertainment. Wait, let me rephrase that: I love entertainment that's cheap.
For example, recently I flew to California and back, which amounted to about nine hours of flight time. Normally I'd stock my iPad or Kindle Fire with movies, but for this trip I just couldn't find anything I wanted to see.
That's when I made the lucky discovery that three of my favorite comedians--
Aziz Ansari
(best known for his role on "Parks and Recreation"), Jim Gaffigan, and
Louis C.K.
--all had stand-up shows available for purchase. For cheap.
If you've ever gone to see one of these guys in person, you know that tickets can run in the neighborhood of $70-80. I love to laugh, but paying those prices would make me cry.
So usually the only other option for seeing their stand-up acts is HBO--but my cheapskate lifestyle doesn't include a subscription.
Thankfully, all three have made their latest stand-up specials available online for a price that's impossible to beat: $5 a piece. What's more, these videos are provided DRM-free, meaning they're not copy-protected like the stuff you buy from Amazon or iTunes. Thus, you can watch them as many times as you want on whatever device you want: PC, phone, tablet, etc.
You can even share them with family members. What a concept, right?
The videos are provided in both standard and high-def formats (the former better for things like smartphones), and if you buy Louis C.K.'s "Live at the Beacon Theater," you can also get the audio files. (A Louis C.K. comedy CD would cost you $10 all by itself.)
I love this, not just because you're getting three-plus hours of comedy gold for $15, but also because these comedians are bucking convention by selling their work directly to fans--and passing along the savings. Gaffigan even goes the extra mile by donating $1 of your purchase to The Bob Woodruff Foundation, which helps veterans and their families.
The only really challenging part was trying not to laugh like a maniac during my flights.
Veteran technology writer Rick Broida is the author of numerous books, blogs, and features. He lends his money-saving expertise to CNET and Savings.com, and also writes for PC World and Wired.


(Source:
Savings.com
)