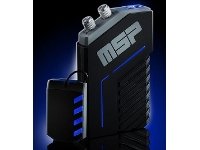 Three must-have gadgets for a spooky Halloween
It's just two weeks until Halloween, meaning now's the perfect time to stock up on candy, decorations--and gadgets!
Wait, gadgets? For Halloween? Yep, even this holiday can benefit from some techno-wizardry, especially if you're looking to create the ultimate costume. Here are three seriously cool gizmos to liven up your All Hallow's Eve.
Finally, a way to integrate your smartphone into a Halloween costume! Just choose one of the cool custom Digitaldudz shirts, tape your phone inside so only the screen is showing, then run the free Digital Dudz app (available for Android and iOS).
The effects range from a darting eyeball to a beating heart to a flickering pumpkin. There's a bit of DIY involved here, but nothing more complicated than a little scissor and duct-tape work.
If you're especially cheap, you can simply grab the app and create your own shirt/costume around it. It offers 21 different animated effects.
Nothing makes a Halloween spooky like spooky noises. This tiny device, barely larger than a quarter, produces five scary sounds: creaking, scratching, gasping for breath, a creepy child laughing, and a whispered voice.
The idea is to prank someone by hiding the tiny speaker somewhere sneaky--like under the couch or in the car. If that sounds like your kind of fun, pull out a sawbuck: the EvilTron costs $9.99 (or $24.99 for a pack of three).
ThinkGeek Mega Stomp Panic
Most Halloween costumes are all about the visuals. The Mega Stomp Panic (pictured above) adds an audio component: It produces sound effects whenever you take a step or jump.
Think robot, for example. For each step you take, the Mega Stomp Panic produces a robotic clank. Stomp or jump and you get a much bigger, louder effect. And it offers eight other "sound environments," including zombie, monster, gunslinger, and medieval knight.
This ingenious gizmo combines an accelerometer (much like the one in your smartphone) and a speaker, both of which clip to your belt. It's the perfect accessory to put your costume over the top. Price: $39.99.
Have you found another must-have Halloween gadget? Tell me about it in the comments!
Veteran technology writer Rick Broida is the author of numerous books, blogs, and features. He lends his money-saving expertise to CNET and Savings.com, and also writes for PC World and Wired.
(Source:
Savings.com
)