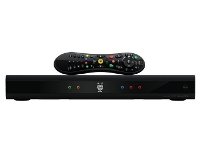 TiVo Cuts Prices on Monthly Service. But is it Enough?
Dear Comcast:
Your DVR is terrible. I mean, really embarrassingly awful. It's functional, yes, but has one of the most unattractive and unfriendly interfaces ever. I threw up in my mouth a little bit just thinking about it.
And you're not alone: a lot of other cable-TV providers have similarly bad boxes. That's probably why so many people turn to TiVo. As third-party DVRs go, it's just about the best option out there. (Okay, its pretty much the only option out there. Still, it's a great one.)
Just one problem: TiVo charges an
insane
$19.99 per month for service. And that's on top of the outrageous rates I'm already paying for cable. (Whoa, more vomit. Come on, Rick, keep it down.)
Thankfully, there's now a deal to be had:
TiVo is now offering monthly service for $14.99
with the purchase of a TiVo Premiere. The only catch is that you have to commit to at least one year. That's no biggie -- most TiVo owners I know (myself included) keep their units for many, many years.
The entry-level Premiere, which can record up to 75 hours of HD programming, costs $149.99 -- not a bad price for such a capable DVR. (Unlike your box, Comcast, my TiVo can play content from the likes of Amazon Instant Video, Hulu Plus, Netflix, and Pandora.)
And although $14.99 per month still strikes me as a bit high, the reality is that the average cable-company HD DVR adds $10-13 to your monthly bill anyway. So it's really only an extra few bucks to capture the joy that is TiVo.
I suspect that'll give your subscribers something to think about.
Hugs and kisses,
Rick