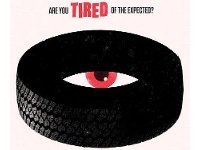 Tire Size and the Basics of Shopping for New Tires for Your Car
My daily-driven truck needs tires. Also the race car I've been shoveling time and money into needs a set of tires as well, because the factory specified tires for a 1979 Ford Futura are not the tires you want for hours of fast driving on a road course. So, since I've been looking a a lot of tires online, I figured I would share some tire basics with you folks.
Then when the time comes to replace your car tires you'll have a better idea of what you are getting into. Forewarned is forearmed, as they say.
First thing you'll want to know before setting foot into the tire shop, or warehouse store auto services center is what size and type of tire is on your car now. Tires are almost unique in this world in that they are measured in a combination of metric and inch units. For some strange reason, even throughout the rest of the world, metric wheel sizes never caught on. So the side of your tire is marked with a number like: "205/75R14" or "225/60R15" or "255/50ZR17."
Let's look at that number one piece at a time.
The first part is the "Section Width" of the tire measured in millimeters at the widest point. Though it's measured at the bulgy part of the tire, the bigger this number is the wider the tire is. Of course you are limited by the width of the metal rim, a wide tire on a narrow rim ends up with the tread being more rounded, or crowned.


The second part is the "Aspect Ratio" of the tire, it measures the height of the sidewall as a percentage of the width. A theoretical tire of "205/100" would have a sidewall, 205mm tall, 100% the size of the width. Some motorcycles use 100 series tires, but cars, trucks and SUVs seldom go above 75 these days, and can go as low as 25.


The "R" stands for Radial, and unless you are restoring a classic car there really aren't any other type of tire out there. "ZR" means it's a radial with the top speed rating.


The last part is the "Wheel Diameter" in inches. In the late 70s and early 80s Michelin tried their hardest to fight the metric good fight for wheel sizes, but even their French compatriots at Dunlop were no help and they gave up.
(
For more detailed info refer to Tire Rack. They have been selling tires via mail order since the late 1970s and have built the best website out there for researching before you buy, no matter where you buy
.)
What this all means is that it is nearly impossible to read a sidewall and convert it into the outside diameter of the tire without paper and a calculator. You need to take the first number, convert it into inches, multiply that by the percentage, then add twice that to the rim diameter, all in your head. Luckily there are tons of
calculators online
that will do this for you, if you should need to do it.
Why would you need to do it? If you understand what the numbers mean and what the diameters are you can do thing like: Lower your girlfriend's Cavalier by nearly an inch, by putting 70 series tires on it instead of 80. Make a low powered race car accelerate better without changing the gearing by going from a 65 to a 50 series tire. Get 5% better highway mileage by putting taller lower rolling resistance tires on your daily commuter. And sometimes it's just a matter of having more choices. Some sizes have a very limited selection of tires available.
Of course this depends on the tire fitting the car and not rubbing and the car being high enough off the ground to not drag anything. Of course any deviation from the factory original size will change how accurate the speedometer is too.
And if you are looking for a quirky movie that is like a cross between "Repo Man" and "The Birds" about a killer tire check out "Rubber"