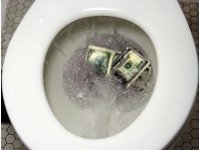 Toilet Repair Tips: The Cure for Jiggling the Handle
Have you ever flushed the toilet, only to go back to the bathroom an hour later and find it still running? Do you live alone, but wake to the sound of water running in the middle of the night? It's not ghosts, it's your toilet's flapper valve.
Toilets are fairly simple. They are far less complicated than your TV, for instance. Still they are more complicated than the kitchen sink. When it works normally, the flush handle opens the flapper flooding the bowl and sending your deceased goldfish down the drain. How Stuff Works has a great cutaway
diagram of a toilet
, with flush-able animation.
Most times when a toilet just keeps on running, it is a simple matter of something stuck under the flapper keeping it from closing. Usually that something is the pull chain from the flush handle, and jiggling the handle shakes it loose. The long term solution is to shorten the chain until it has as little slack as possible. Sometimes the flapper will get old and harden so it will not seal very well, but they are easy to replace, cheap and nearly a universal fit.
The toilet that runs at night at random intervals has a different cause, and is a little harder to fix. Typically when the tank fills to the pre-set level the float closes the valve shutting off the water supply. When you have a float that doesn't float, a shut-off valve that doesn't shut off, or a flapper that has a slow leak, the water will run periodically for a few seconds then shut down again. You can try to diagnose exactly what the cause is, but often it is easier to just replace both major components.
Out here in L.A. I think the water has something in it that affects the plastic shut-off valves and causes them to stop working. I think there was a period where I had to replace one once a year in my apartment over the course of ten years. Finally, after trying all the different brands and types, I got one that was durable and foolproof. Most filler valves are controlled by a float, and are adjustable for fill level in some way. There are two basic types as seen in this picture.
Traditional Ball Cock type on the Left --- Universal Integrated Float type on the Right

I finally found a fill valve with no float that is controlled by the pressure of water on a diaphragm and seems to last for years. The funny thing is, it also seems to be the simplest design with only 2 moving parts. All of these install easily in just a few minutes with a minimum of tools. If you have a
tool box
with the items I suggested a few weeks ago, you have everything you need. I once installed one in the middle of a 4th of July party after drinking for hours--and it still took me less than 30 minutes.
If it's time to fix the old commode, you might as well spend a little more money and save some water at the same time. For just a bit more than the regular repair kit, you can update to a
modern dual flush set up
. Do I have to go into details here? Well I'm not going to. We're all adults, and we know what goes on in the bathroom. You can figure out for yourself what the two different flushes are for.
As far as the actual repair, there is nothing to it. Shut off the water, disconnect the old valve, connect the new one, adjust the water level and you're done. Be careful tightening fittings. It is ridiculously easy to break porcelain when using steel tools nearby. I will go into the step-by-step process in a later post, but until then here's a basic
toilet repair guide
.