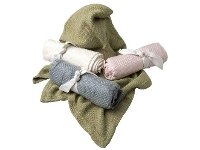 Top 4 Eco-Friendly Baby Products under $50
I recently got a new niece and I'm quickly learning that buying baby gear is about the most fun way to spend my money. Especially since I've found a few companies that market eco-friendly baby clothes and supplies. In the past few months, I've become a bit of an expert at buying little gifts for a baby. Here are some of my favorite places that specialize in cheap eco-friendly baby gear. Everything is under $50 and can be purchased online.
1. Hooded Towel and Washcloth Set by Under the Nile
Under the Nile
sells a towel set which includes a baby-sized hooded towel in a monkey design and a duck washcloth. Both the washcloth and towel are made from 100 percent Egyptian Cotton and washing machine friendly. (Price: $40.00)
2. Modern Print Baby Blanket
My sister wanted to get away from the usual "pink is for girls" mentality and decorated my niece's bedroom in a clean, modern design. Surprisingly, I was able to find an eco-friendly baby blanket to match at
Organic Baby Warehouse
. The blank is red and white with a simplistic floral print, made from 100 percent organic materials. (Price: $37.95)
3. Organic Cotton Diapers
Cloth diapers are harder to use than disposables, but they cut down on resource waste and landfill use. Organically Baby sells cloth diapers made from organic fleece. The diapers have an inner lining and Velcro closures for easier use. (Price: $14.95)
4. Overtired and Cranky Bath Set
I'm committed to keep manufactured bath products far away from my niece. Instead, I've found a few alternatives made from organic materials.
California Baby
makes a bath set specially formulated for crankier babies. The set includes a tote bag, bubble bath, shampoo and body wash and a gel. (Price: $21.00)
Photo courtesy of 3BL Media at Flickr