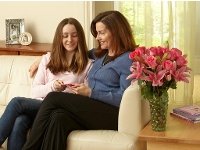 Top 5 Mother's Day bouquets 2013
Mother's Day is only one week away!
It's one of those days I look forward to because I get waited on hand and and foot by my children and husband. From breakfast in bed to flowers, it's a day that I can proclaim where I can do nothing and get away with it.
On the flip side, I'm also a daughter myself. It's the one day I want to express my gratitude towards my mom and make her feel extra-special. My mom is a sucker for flowers, so she always looks forward to getting her home delivered bouquets each year.
If you're like me and plan on sending flowers to your mom, but you have no idea where to start, I've got this year's top five Mother's Day picks from
1-800-Flowers.com
:

1. Pink Perfection

Your mom's type: Sophia Loren
This bouquet epitomizes elegance and beauty. If your mom reminds you of Sophia Loren, this would be perfect for her. The bouquet includes roses, lilies,
alstroemeria and more. They are all hand-arranged in a clear glass cylinder vase. If you need to make up for some past Mother's Day gifts, this will make up for it.

Price: $149.99 for Large, $124.99 for Medium, $99.99 for Small






2. Floral Embrace


Your mom's type: Martha Stewart

This bouquet would make a nice centerpiece for your mom's dining table. Not only will it bring a smile to her face, it will add that special designer touch to her home. Whether your mom is into crafting or baking like Martha Stewart, these flowers will unleash her artistic spirit. The bouquet includes
roses, lilies, stock, sunflowers and alstroemeria in a classic cylinder vase.

Price: $69.99 for Large, $59.99 for Medium, $49.99 for Small





3. Timeless Tulip


Your mom's type: Lucille Ball

It's definitely Spring when you start to see those tulips blooming in your garden. Appropriately, they symbolize fresh new beginnings. If your mom is vibrant, fun and has lots of energy like Lucille Ball, this would be perfect for her. The bouquet includes assorted colors of tulips in a clear vase tied with a raffia.

Price: $69.99 for Large, $59.99 for Medium, $49.99 for Small







4. Modern Embrace Pink Rose & Lily Cube


Your mom's type: Audrey Hepburn

Is your mom a classic beauty? Audrey Hepburn was not only beautiful she was a fashion icon who always had a modern twist to her wardrobe. These flowers can modernize the feel of any traditional room while it can perfectly fit in with the lines of a mid-century modern

A. Quincy Jones

home. The bouquet includes pink roses and white lilies that are hand-designed and arranged into a
clear cube vase lined with exotic Ti leaf ribbon.

Price: $79.99 for Large, $69.99 for Medium, $59.99 for Small




5. Fields of Europe for Mom


Your mom's type: Florence Henderson

If your mom is the all-American mom, then these flowers would be perfect for her. Florence Henderson of The Brady Bunch played the part of a mom who was raising 3 girls of her own and 3 boys from her husband Mike. Even though it was a blended family, she made it all work. Whether you're a single mom, step-mom or mom to many kids, you could relate to her on many levels. This bouquet includes
roses, lilies, carnations, snapdragons and more, placed in a glass vase tied with a raffia.

Price: $59.99 for Large, $49.99 for Medium, $39.99 for Small



With flowers, you can't go wrong. At least, that's what my husband says. If you want the opportunity to win any of these 5 large bouquets, please join us for our Celebrating Mom Twitter Party on Tuesday May 7th, 2013 at 6pm PST/9pm EST. If you're in a rush to place your order, use this exclusive coupon from 1-800-Flowers to save $10 off your purchase over $49.99. To all the moms out there, Happy Mother's Day!

(Source: Savings.com)