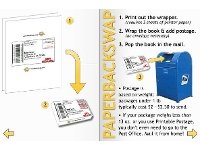 Trade your used books for other used books at PaperBackSwap
If you're anything like me, you've got shelves (or boxes) packed with books you've already read and don't necessarily want anymore.
You could donate them or try to sell them in your next garage sale, sure, but why not swap them for newer books you do want?
It works like this: After signing up for an account, you enter all the books you have available for trade. If another user wants your book, you'll get an e-mail requesting it. From there you can print a mailing label or "wrapper" (including postage if you want, or you can add your own).
Every time you mail out a book, you earn a credit. Every time you "buy" a book, a credit is deducted. In other words, you have to send books to get books. PaperBackSwap.com gives you two free starter credits when you list 10 available books, but you can also buy credits for $3.95 apiece--or $3.79 each if you buy at least three.
Given that Amazon typically charges $3.99 for shipping on used books, this can definitely work in your favor. For the price of postage to mail one of your used books, or for the price of a credit, you can get a book you want. There's no additional "transaction" charge or anything like that.
Indeed, the only thing you pay is postage, and because you're able to print paper mailers that show (or have) the exact Media Mail rate for the book you're sending, all you have to do is drop it in the mailbox--no trip to the post office required.
Back when my daughter was heavily into Junie B. Jones, I was able to keep new titles coming by trading away old, unwanted books. PaperBackSwap is a great way to turn books you no longer need into books you really want.
Veteran technology writer Rick Broida is the author of numerous books, blogs, and features. He lends his money-saving expertise to CNET and Savings.com, and also writes for PC World and
Wired.
(Source:
Savings.com
)