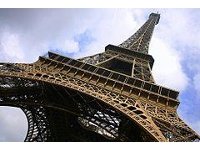 Travel Deals Make International Destinations More Affordable
By Cezary p (Own work) [GFDL or CC-BY-SA-3.0-2.5-2.0-1.0], via Wikimedia Commons

Tired of revisiting the same old beach year after year on the routine and always predictable family vacation? Do your all your trips seem to bleed together in haze of souvenir shops, theme parks and too much driving? It's time to get away from the typical rotation of vacation spots and discover something new.
International travel might seem intimidating at first glance, but there's a whole world beyond crowded waterparks and gaudy tourist traps--and it's more accessible than you might think.
The big expenses
To save money on international travel, transportation is a good place to start. No matter where you end up—the delicatessens and twinkling streets of Paris or a quiet ski resort nestled in the glistening peaks of
the Alps
--cheap flights can leave you with more money to spend on pastries and lift passes. There exist an overabundance of websites devoted to finding affordable flights, and they are a great place to start.
Keep in mind, you'll be more likely to save money if you keep your travel dates flexible, avoid scheduling around holidays and consider alternative airports apart from the obvious. Sometimes it can be cheaper to fly into a nearby city rather than directly into your vacation spot. Talk to the airlines directly for deals and savings, and consider an
airline credit card
to earn a few free miles toward your trip.
The next big expense is lodging. Finding deals on hotels is crucial to making your trip affordable. The first thing you will want to determine is the type of hotel you prefer. American chains offer familiarity and predictability that many travelers find comforting and low-stress.
Hotel credit cards
offer great deals and discounts on chain hotels, including free nights and credits for spas and dining. But for those desiring a more adventurous, immersive experience, it's a good idea to look into the foreign chains and local inns specific to the region. These can be a little more difficult to find deals on, but they're great if you're looking for new experiences and local charm.
Know where you're going
Perhaps the most important step is to familiarize yourself with the area. Know where to find food to please the whole family and how much it will cost. Calculate transportation expenses in the area. Is public transportation safe and affordable, or will you have to rent a car? Travel credit cards often provide rewards for dining and car rental expenditures, and it will help if your credit card has
no foreign transaction fee
, which sets you back 3% of everything you spend overseas. Look for vacation packages that offer discounts on flights and hotels—these are especially useful for families with children.
Wherever you end up, with enough research, there are plenty of ways to save money and make your overseas adventure affordable.
Anisha Sekar is a staff writer for NerdWallet, a credit card website dedicated to bringing you the best credit card deals for your budget.