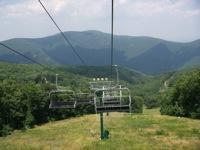 Finding Travel Savings in the Off Season
Summer vacation. Those two words conjure up images of lazy days at the beach, rollercoaster rides, travels to exotic locales and memories that last a lifetime. These days it can also create empty wallets and busted bank accounts. But don't let the economy cancel your vacation plans!
Two words for an easy way to save on your summer vacation: off season.
Okay, class--let's go over travel destinations that are not off-season during the summer months:
Europe
National/State Parks in the US
Anywhere not mentioned in this post
I may exaggerate just a bit. But with kids out of school and everyone hitting the road at the same time, it is very easy to end up vacationing at a crowded and overpriced locale just because it is an obvious choice. Check out our not-so-obvious suggestions for budget-friendly fun for the whole family.
Winter Resorts
"Well duh," you say, "Of course winter resorts are off-season in the summer. But what do they offer me?"
The answer is plenty! Ski resorts across the whole country have been stepping up their game in an effort to lure summer travelers with great attractions like water parks, alpine slides, horseback riding and supervised children's programs for all ages. Check out this great article from Professional Travel Guide for the lowdown on specific resorts from New England to the Rockies.
The Desert
Don't worry, I'm not suggesting you go sizzle in 125 degree heat in Death Valley (no offense to Death Valley, or those who enjoy a nice, dry 125 degree heat). Summer desert vacations can be surprisingly enjoyable, provided you plan your activities accordingly. Snag an early morning tee time when you visit Palm Springs or Arizona, spend the afternoon at the spa and go exploring at night when temps are more tolerable.
And of course, Vegas is the granddaddy of summer bargain travel. My in-box has been flooded with offers from the hippest hotels and nightclubs hoping to welcome visitors back to Sin City with amazing summer deals. Spend your days sipping drinks poolside or gambling in air conditioned comfort, then hit neighboring clubs, casino attractions and shops at night (you gotta love a city where you can shop until midnight!). We just happen to have several pages of Vegas deals to get you started on your Vegas quest. Plus an Arizona-only car rental coupon code for good measure.
The Caribbean
I know, I know...off-season travel to the Caribbean conjures up images of monsoons and hurricanes destroying not only your beach vacation, but possibly the entire beach. And yes, hurricane season is officially June through November. But hear me out--the temperature in the Caribbean is gorgeous year round. And your chance of being on the receiving end of truly awful weather is small. While researching this post, time and time again I came across this nugget of info to keep in mind: the Southern "ABC Islands" (Aruba, Bonaire and Curacao) are far less likely than the rest of the Caribbean to be hit by a hurricane. So lay those fears to rest and get ready for some island living! Have we got some Caribbean deals for you!
Safe (and economical) travels, everyone!