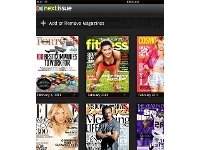 Try magazine-subscription service Next Issue free for 90 days
Do you like magazines? Perhaps you've heard of
Next Issue
, a flat-rate subscription service that lets you read all the magazines you want on your tablet or PC.
(Update: Apparently there's been a technical glitch at Next Issue's end, so the deal is on hold for the time being. But keep checking back, because it should go live by tomorrow or early next week.)
The service offers more than 80 titles, from Allure and Bon Appetit to Food Network and Travel + Leisure. They even have some magazines for us men-folk, like Details and Men's Fitness. You get unlimited access to both current and back issues (those that are available digitally, that is).
There are two subscription options: Basic and Premium. The latter (which is what you're getting as part of this promotion) normally costs $14.99 per month and adds a handful of weeklies to the mix, like Entertainment Weekly, People, and Sports Illustrated. Basic, which runs $9.99 per month, includes only monthly mags.
Once the trial ends, you'll have to do some number-crunching to figure out if paying for Next Issue makes sense. I think if you'd normally subscribe to at least six or seven of the available magazines, it's worthwhile to keep your subscription going.
To my thinking, the real beauty of Next Issue is that it lets you sample a bunch of magazines you might not try otherwise. Like Food Network? Maybe you'll like Everyday with Rachael Ray as well. Big fan of Better Homes and Gardens? Check out House Beautiful. For true magazine junkies, the whole unlimited-access thing can't be beat.
The Next Issue app is compatible with the iPad and iPad Mini, many Android tablets (not including the Kindle Fire and Nook, alas), and Windows 8 PCs and tablets. For reasons unknown, however, the Android version limits you to more like 40 titles, so for the moment this is a better deal for the iPad and Windows 8 crowd.
If you love periodicals and own a compatible tablet, I can't recommend this highly enough. One important note, however: You'll need to provide a valid credit card to get the trial subscription (same as with, say, a Netflix or Hulu trial), and create a reminder to cancel that subscription on day 89--assuming you want to cancel, of course.
Me, I'm keeping my Next Issue.
Veteran technology writer Rick Broida is the author of numerous books, blogs, and features. He lends his money-saving expertise to CNET and Savings.com, and also writes for PC World and Wired.

(Source:
Savings.com
)