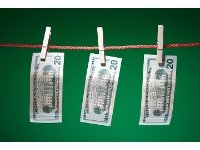 Turn Black Friday 2011 Green With This Eco-Friendly Shopping Plan
Black Friday
shopping is wild, crazy, and a whole lot of fun--until you find yourself with an empty gas tank, an empty wallet, and a car full of things you wanted but don't really need. Use these strategies to make sure you get what you really need and maybe even save the planet, just a little, while you're at it.
Make a Shopping List
Yes, everything is on sale, but every "want-it-but-don't-really-need-it" buy you stave off means money saved, and packaging and components that won't eventually end up in a landfill. Remember, Black Friday isn't about retailers being generous; it's a wild bait-and-switch designed to sell you more than you originally meant to buy. So sit down and make a list of the items you really, truly need, in descending order of importance,
before
you scout the Black Friday ads.
Buy Online
Some retailers offer Black Friday deals online, too. (
Double-check the ads--a few deals are usually reserved for in-store purchases only
.) A lot of the online deals will be available starting on Thursday, so strike early while the selection's still good. Shopping online saves you time and gas money, and narrows your list of must-hit destinations for Friday morning. The Friday in-person sales also become a built-in second chance to score any must-haves you couldn't pick up online.
Allow the Impulse
Part of the Black Friday fun is finding surprise bargains, but give yourself a budget limit for impulse purchases and stick to it. Even if your impulse budget is just $5, it still gives you a chance to participate in the hunt. Carry your "mad money" in cash so that once it's gone, it's gone--no impulsive credit card purchases for you.
Think Long-Term
Yes, Black Friday is a great chance to get major appliances at 50 percent (
or more
) off. But don't get sucked into a deal that costs you money in the end. Look for the Energy Star and WaterSense logos to identify appliances that will help you save on energy and water costs over time. According to the EPA website, a four-person household upgrading to a WaterSense toilet can save 27,000 gallons of water and about $170 in water bills every year. The Energy Star website estimates that upgrading to an Energy Star refrigerator/freezer can save you about $100 in electricity costs each year. That's worth paying an extra hundred or two hundred dollars for now; you'll quickly recoup your costs and start saving.
Even if you're not buying appliances, remember to take replacement components and maintenance costs into account. For example, do you know how much it's going to cost to replace the ink cartridges in that printer? And can you replace them one at a time, or does the printer use a multi-color cartridge?
Think Ahead
Don't forget to think out of season. Even though it's the middle of winter, this is a great time to buy a bike, some inline skates, or a sturdy pair of walking shoes for some human-powered transit next year. (
We found bicycle deals at Walmart, Kmart and Sports Authority
.) You'll save lots of gas money, you'll reduce your carbon emissions, you won't need to buy a gym membership, and the regular physical activity might even reduce your medical costs, too.
Got any more tips for an eco-friendly Black Friday? Share them in the comments!