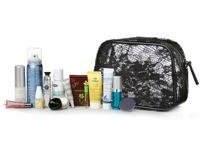 Twelve Days of Giveaways: Deluxe Beauty Samples and $50 Beauty.com gift card
Why not treat yourself to some extra pampering around the holidays and start off the New Year on a fresh note? Fine lines, wrinkles and pores are generally seen as unwelcomed visitors for our skin. Having the right dermatological ammunition to keep skin looking healthy can be costly and a gamble. Our Team at Savings.com, has recognized that this shouldn't have to be the case.
To kick off the second day of the Twelve Days of Giveaways, our friends at
Beauty.com
are providing us with a
Limited edition Charlotte Ronson-designed bag
filled with deluxe samples and a
$50 Beauty.com gift card
($175 value total).
This set includes:
This wide array of product offers introductions to new products or even additions to some of your favorites! In addition to this gift bag sampler, you will receive a $50 gift card to snag those beauty wishlist products!

As stated in our giveaway announcement, comment on this post before December 19th to be eligible to win. One entry per giveaway; one prize per winner. We'll announce all winners on Monday, December 20th. Check back to see what amazing giveaway we have coming up for the third day. (Hint: It will house the "keys" to your fun, exploration, and information--plus is more appropriate than days one and two for our male readers...)