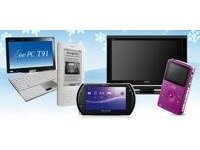 Using Trending Products to Brainstorm Gift Ideas This Holiday Season
Don't get me wrong.. I love the holidays just as much as the next guy, but every single year it seems to get harder for me to find new gift ideas for my family and friends. I don't want to be that guy who always gifts the same things year in and year out so I've tried coming up with a couple of ways to brainstorm new gift ideas without really hurting my wallet.
So, without further ado, here are a couple of ways to brainstorm gift ideas this holiday season:
Pricegrabber's Top Trending Products
We've all most likely come across comparison shopping sites like Pricegrabber.com at some point when looking for the best deals online. But instead of just aggregating a bunch of sales from online stores, they're now showing you what people are searching for and buying too!
You can browse the top trending products by week and by category, too:
http://www.pricegrabber.com/trendingproducts
. If you're anything like me and have a hard time coming up with gift ideas this will help get the creative wheels turning.
And if you do happen to find a good gift idea, you'll already have a bunch of offers listed right on the site and competing on price.
Google Product Search's Popular this Week


The same basic idea as what I just described on Pricegrabber: using what other people are searching for to find possible gifts for your friends and family. The obvious difference here is that Google has a lot more people searching on their site so they might be able to offer suggestions that Pricegrabber didn't.
Scroll to the bottom of the page
http://www.google.com/prdhp
and you'll find some great suggestions.
This page is a lot more interactive than it used to be and it's easy to start clicking around and get lost in a bunch of new gift ideas, especially when Google gives you a list of similar or related items!
And again, you can filter by price to make sure that these new gift ideas are within your price range.
Well, those are just a couple of ideas that I had for brainstorming new gift ideas and hopefully it helps you find what you're looking for! How do you come up with awesome gift ideas?