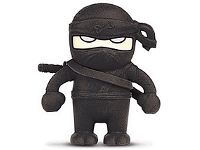 Wacky Product of the Week: Bone Ninja Flash Drive
Let's face it, we all want the same things from our flash drives: we want them to store things we need, and we want them to harbor deceptive cat-like reflexes for when we are trapped in dire situations so they can keep us and our computers safe from evil villains, robots, and aliens of the future.
Well, good thing we can get
Bone Ninja Flash Drives
, which do both of these things! And, they are incredibly cute to boot.
The Bone Ninja Flash Drive is not just a working 4GB flash drive: as their ads say, looks can be deceiving. These little guys actually have magnets inside them, which make it easy for them to crawl around your computer, refrigerator (
even Ninjas have to eat
), or any metal surfaces you might have on hand.
These handy helpers will keep your files, music, documents, and photos safe with their Katanas (
yeah, they're packing heat, Japan-style
) and cling close in case you need them, lest you forget where you put them.
The USB connector is actually hidden under the Ninja's backpack. No one will ever suspect. And like all proper Ninjas, these guys are waterproof too. Okay, so not all Ninjas are waterproof…but maybe they should be.
At a cost of about $25, this is cute idea for a simple solution.
My only question is…what will
you
store on your Bone Ninja Flash Drive? Hidden government files? The secret lost diaries of Nixon?? Photos from your spring vacation?! Live dangerously, people.