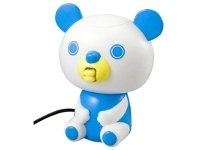 Wacky Product of the Week: Charatter for Twitter
So you tweet, right? I mean, who doesn't tweet these days? But isn't it sometimes just annoying that when you go to read your friends' tweets that you have to, like, actually
read
them and stuff? I mean, it's so tedious! It would be so great if you could just have a friend sitting beside you, reading the tweets to you, so that you could get on to more important tasks in your life.
Strangely, none of my friends wanted to sit around all day reading my tweets...but luckily for me and you, I found
Charatter for Twitter
over at
GeekStuff4U.com
. He'll read your tweets. Only in Japanese, but that might make them sound more interesting, don't you think?
This little guy costs a hefty sum (
~$35!
), but he's so dang cute, and when you hear him read tweets in Japanese, your little heart will just melt for him. Awww! It looks like he reads a little English too, so maybe they'll perfect him in the future so I can have a tweet-buddy too.
And since he's just plug-and-play, he looks very easy to use.
For $35, I'd pass for now, but for $25? Maybe.